Luxury Cruising of Australia's Coastlines
True North, Australia's leading luxury small group expedition ship, cruises some of the continent's most spectacularly remote and scenic coastlines. With a fleet of adventure boats and a helicopter at her disposal, guests of True North can access the otherwise inaccessible.
Explore the most untamed corners of the great Australian continent and cruise some of Australia's most spectacular waterways aboard True North. The 50m luxury adventure cruise vessel's shallow draft allows True North to access rivers, reefs and remote reaches of Australia that other larger cruises quite simply can't.
True North's fleet of comfortable and stable adventure boats allow guests to get even closer to Australia's most spectacular wildernesses; and the on-board heli-pad and helicopter allow keen adventurers to explore even further. 
Cruise beneath thundering waterfalls and hike to picnic by tranquil waterholes. Heli through dramatic gorges, snorkel remote reefs and fish for famed barramundi with a knowledgeable guide at your side.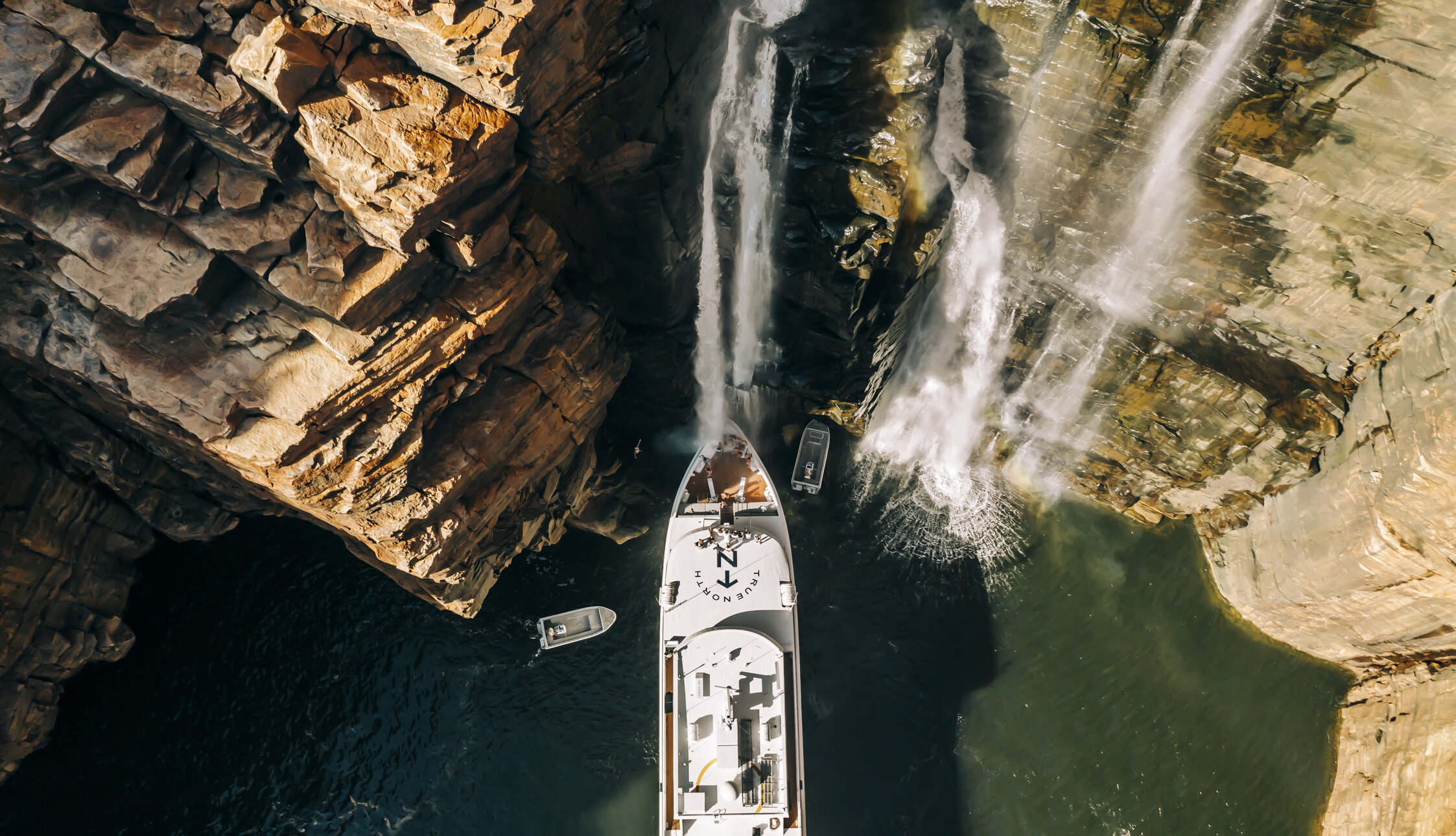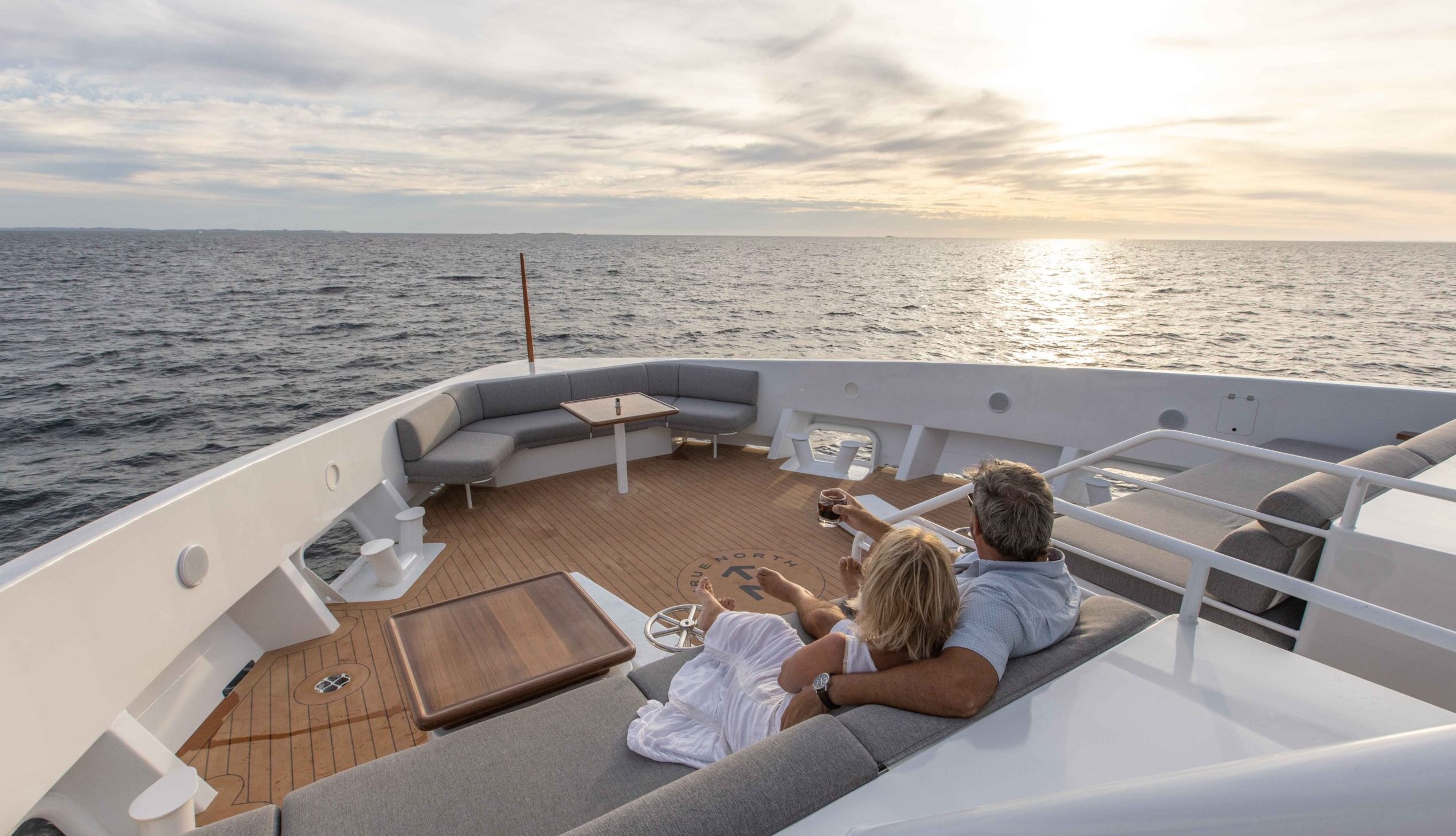 With a maximum of just 36 guests and a crew of 22, personalised service is guaranteed; whilst the 18 en-suite cabins also ensure every comfort is catered for. The dining room enjoys uninterrupted panoramas of the day's scenic surrounds, whilst diners are treated to chef-prepared meals that showcase the finest local produce – which may even include the catch from your fishing adventures! 
True North cruises Australia's far north-west Kimberley Coast between March and October. Activity-rich annual cruise itineraries also include the Abrohlos archipelago, South West Australia, South Australia and Sydney for New Year's Eve.
Don't be afraid to dive into the deep. True North's snorkelling and scuba diving adventures showcase some of the most spectacular underwater experiences around: drift snorkel over Rowley Shoals, scuba dive shipwrecks in the Abrolhos and swim with seals in South Australia.
All meals, selected beverages and a collection of experiential touring and activities are included with a True North cruise. In support of multi-generational travel, children of all ages are welcome aboard True North. True North is also available for exclusive-use charters.
Just completed three weeks of travel in Australia and New Zealand with our 5 kids. Southern Crossing took great care of us by selecting properties that were worth visiting, finding local guides to help us see the sites, and recommending fine dining establishments that were superb. Well done. We would highly recommend their team.
We used Southern Crossings for our time away in the Northern Territory which has been on our wish list for years. The experience was everything we'd hoped for: from the hotels they recommended to the types and size of the tours they organised. It was perfect for our family. We loved the use of their app for up-to-date information on what was coming up and the places we had visited. I would highly recommend them and will definitely be using them again.
"Every day was more exciting than the last. Great advice and great execution all around by Southern Crossings. Highly recommend!"
If I could give Southern Crossings 10 stars I would! .. I found Southern Crossings through Town and Country Magazine and my hopes for a 5-star vacation became reality .. once we had our Zoom with Paul, we knew that we would be in good hands. .. Paul tailored EVERY SINGLE detail of what we were looking for in our trip to our needs. The itinerary was amazing, .. I expressed interest after hearing about a restaurant while in Sydney, and he helped push to get us off the extremely long waitlist. He made sure we had the BEST rooms at each hotel we stayed at .. they seriously are the best of the best.
I have worked with a lot of travel companies over the years and I'm happy to say Southern Crossings is at the top of the list. You guys were so easy to work with and so organized and on top of everything. None of those details were missed on me. My only wish is that you covered more areas in the world!!
"Southern Crossings put together the trip of a lifetime...The team was incredibly accommodating and went above and beyond to ensure we received what we asked for and more .. amazing excursions and accommodations that we will never forget across seven locations in Australia and New Zealand. We highly recommend using Southern Crossings!"
"Thank you, once again, for making our trip so seamless. We loved every place we stayed and all of the adventures you planned for us! We hope to visit again and will be sure to connect with you for that trip."