Australia, New Zealand & South Pacific
Sydney Harbour or Auckland Harbour, The Whitsundays, Kimberley Coast, Bay of Islands or Marlborough Sounds; Fiji's Yasawas or Tahiti's turquoise lagoons: our island nations offer some of the world's best cruising grounds – and luxury private cruising options to match!
If the ocean calls and you're looking for a path even less travelled, we can take you there too.
Cruise without the crowds to picnic on a private sand cay surrounded by Australia's Great Barrier Reef or explore the Kimberley Coast's secret waterways; head out on a fishing charter in New Zealand's beautiful Bay of Islands and cruise to the furthest reaches of fabulous Fiordland's spectacular sounds, navigate the turquoise lagoons and dreamy atolls of Tahiti or hop between Fiji's stunning island groups.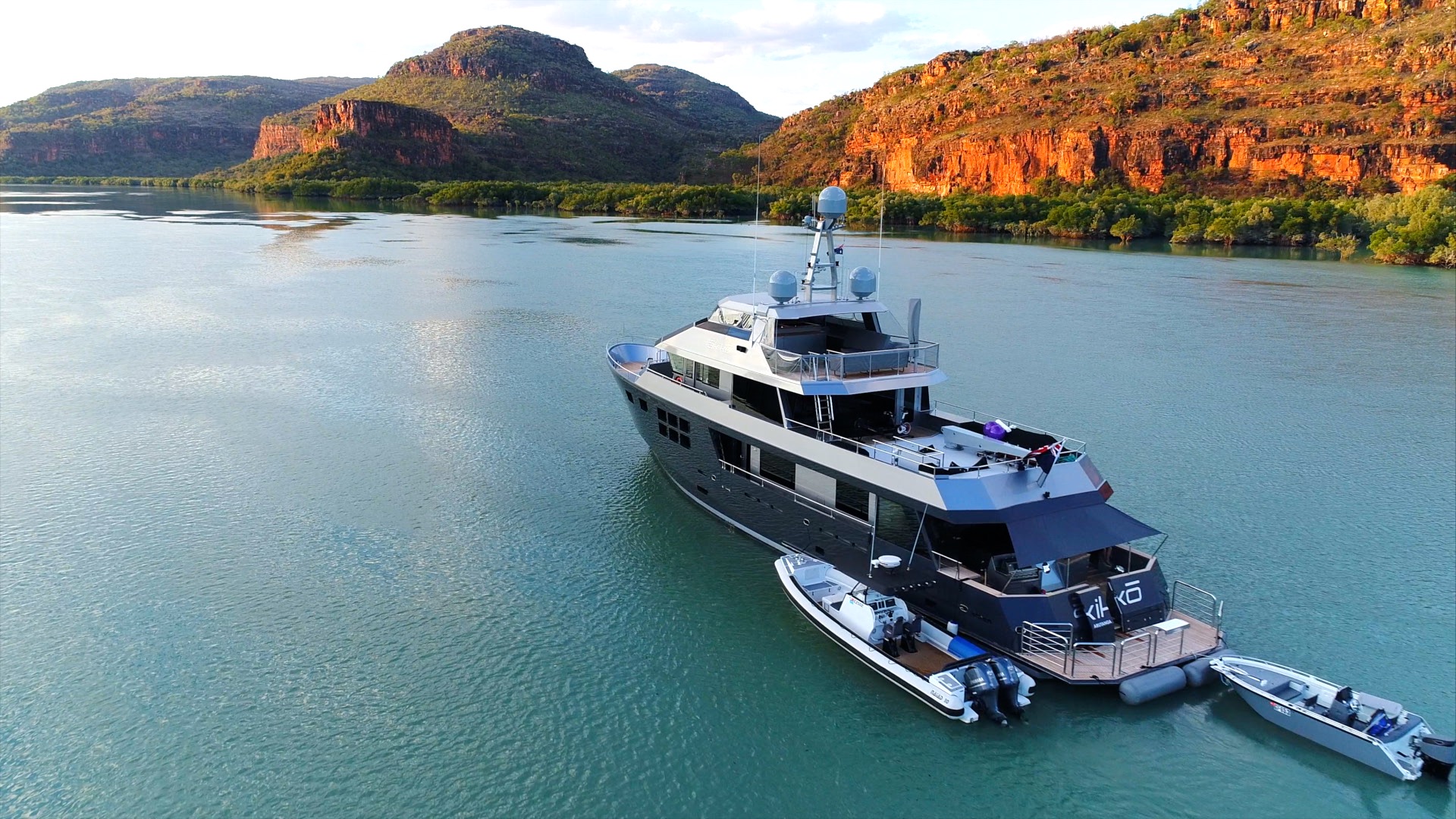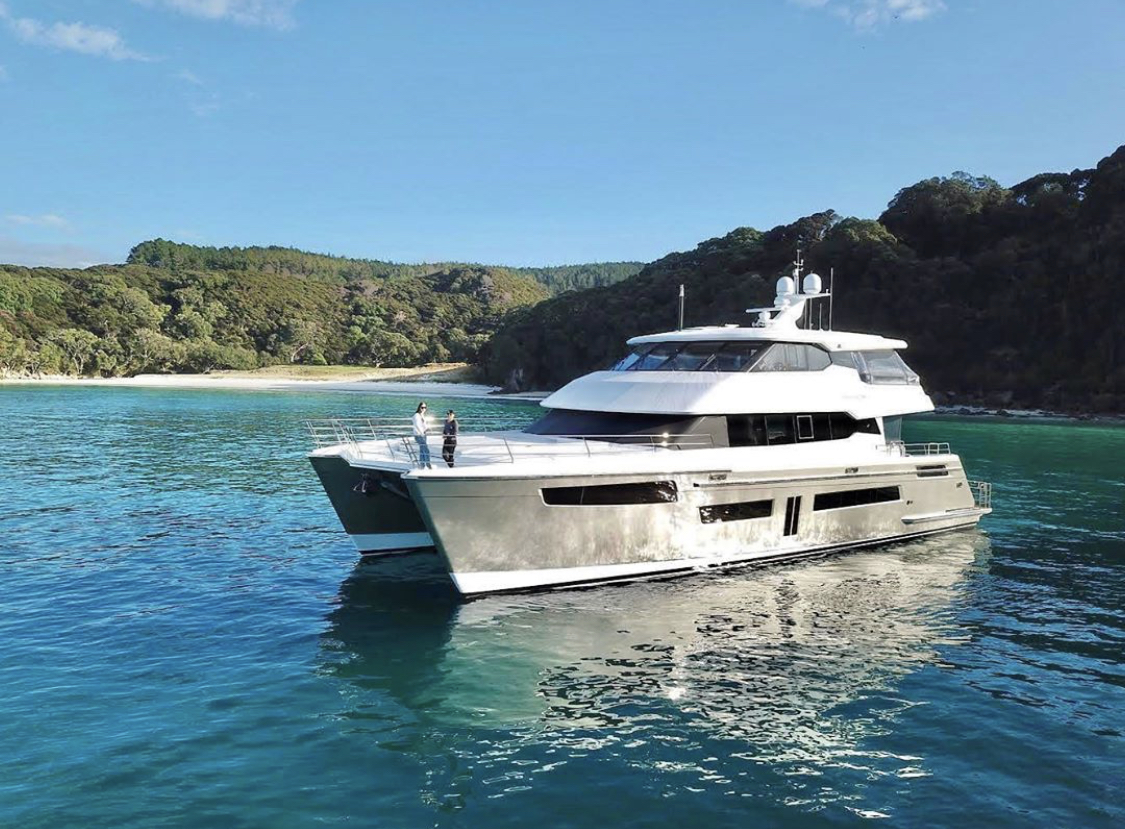 Whether you have a few hours, a weekend, a week or more; a party of two or two dozen, we have a collection of state-of-the-art superyachts to suit. Complete with hot tubs and helipads, equipped with diving gear and fishing equipment, our fully crewed and catered private luxury cruising options need not leave any of life's luxuries behind.
But perhaps you'd prefer to chart your own course with bareboat sailing luxury yacht charters? or explore remote waterways with a luxury small-group expedition cruise? we have these too and can tailor itineraries to suit.
These itineraries have been designed to inspire you with a small selection of the many unique adventures to be had in this beautiful region. Once you have a feel for the destinations and experiences that best resonate with you, we will tailor every element of your perfect luxury travel itinerary, exclusively for you. 
Precious pearls and natural treasures; exploring Broome and cruising the remote Kimberley Coast
Ease into your Kimberley adventure with a three-night stay at the Billi resort, a boutique and unique hideaway near Broome's Cable Beach. During your stay here, we have included a private behind-the-scenes tour of the scenic Willie Creek Pearl Farm.
Setting off from the pearling port of Broome, your seven-night small-group expedition cruise travels the Kimberley coast in style through to Wyndham. Cruising in comfort, your vessel is purpose-designed for discerning adventurers and custom-built to provide privileged access to otherwise almost inaccessible corners of the planet.
Your itinerary showcases all the must-see sights and highlights of this spectacularly scenic stretch of coast. Enjoy an exhilarating tender trip through the Horizontal Falls and ride the tides to explore Sale River. Cruise the Montgomery Reef, keeping an eye out to spot turtles, dugong and crocs as the corals rise majestically from the sea. Travel up the Prince Regent River to marvel at King Cascade falls, whilst the neighbouring Hunter River's banks are lined with red cliffs, sprawling mangroves and lush rainforests. See some of the oldest human artworks, 'the Bradshaws' that 'hang' on the dramatic rock walls of these most remote reaches. There are also numerous opportunities along the way to explore the region further with stunning guided hikes and scenic heli-flights (at additional cost).
10 nights' accommodation (3 nights Billi Resort and 7 nights onboard True North) inclusive of 7 breakfasts, 7 lunches and 7 dinners per person. Private Behind the Scenes tour of the Willie Creek Pearl farm, 7 night True North Snapshot Cruise in a double Ocean Cabin including selected activities.

Itinerary available for set departure dates between April and October. Prevailing conditions may necessitate some variation(s) in the itinerary described. Domestic flights to Broome / from Kununurra are not included.
Tasmania's South West wilderness
Enjoy World Heritage Wilderness, guided walks, spectacular wildlife and wonderful Tassie wines as you cruise some of the most pristine corners of the planet aboard a luxury motor catamaran custom-built for expedition-style cruising.
Whilst each itinerary is different, shaped by the winds, the weather and individuals' interests, Odalisque III provides access to Tasmania's otherwise largely inaccessible South West Wilderness.
The adventure begins with a scenic wilderness flight from Hobart that sets the scene for the days ahead. Surrounded by the South West National Park, most signs of civilisation have been left far behind – but not so aboard Odalisque III where all the creature comforts are catered for: private en-suite cabins with panorama windows, comfortable lounge areas, gourmet dining experiences and highly personalised levels of service.  
Wake up to a new view each morning. The days ahead are spent gazing up at the spectacular Breaksea Island sea caves or out from stunning mountain-top lookouts, wandering along the untracked sands of Stephens Bay Beach or hiking through ancient rainforests, cruising the Huon-pine lined bends of the Davey River or picnicking in pristine wilderness. Spot dolphins playing in the bow waves and chance a glimpse of the endangered orange-bellied parrot.
Your expert guides generously share their vast knowledge about the local wildlife, flora, history and more on daily walks and shore excursions, whilst back on-board the chef prepares delicious meals showcasing local delicacies enjoyed around a shared table.
4 or 6 nights' accommodation aboard Odalisque III, all meals and accompanying beverages, daily shore excursions, return scenic flights from/to Hobart and national park entrance fees.

Scheduled 4- and 6-night Port Davey Escape itineraries operate between January and May each year. From June to November, Odalisque III is based in Hobart, operating 4 night East Coast Expeditions to the Freycinet Peninsula via Maria Island and the Tasman Peninsula. Private charter cruising with tailored itineraries is also available throughout the year.
Best of all, at about every stop we've been treated to some form of special hospitality, which has not gone unnoticed. Safe to say this trip has met and exceeded our expectations.
I can't begin to tell you how appreciative I am to be working with you. Thank you for all the assistance from the beginning and of course the last minute changes with the floods. Southern Crossings have made it seamless
I just wanted to tell you that our Australia trip was probably The best trip we have Ever taken!!!!!! Not only has it been in our Bucket List forever, but because of all the planning and selected vendors you and Southern Crossing chose to make it all happen, it was incredible!!!!!! Based on all the moving parts of this trip that was almost a full month of events, there was not ONE mess up… A huge thank you for doing an Outstanding job in making everything work out, and making this trip, truly amazing and magical ..
many many many thanks!!!!!!
We came thinking it would be the trip of a lifetime. Bottom line is it was better.
We have been blown away by everything - hotels, food, people, golf, wine - the list is endless. You did an amazing job
Thank you ALL for the most wonderful Australia/New Zealand adventure.
Planning a 7 week trip is daunting enough without the complications of COVID cancellations, rebookings, and closures. Yet every connection, every transportation detail, every accommodation, every meal, everything was flawless.

From our arrival in Sydney .. to our last stop in Queenstown .. we will carry with us the best memories of our trip and all of your efforts. The incredible private boat tours .. the bespoke wine tours with the best guides .. our accommodations .. and the excellent itinerary and pacing, made for a perfect trip.

We can't thank Southern Crossings enough for making this trip all, and more, than we had imagined. You allowed us to see the best of your countries: the people, the beauty, the culture. Five stars, a blue ribbon, and a gold medal to everyone at Southern Crossings!
I cannot recommend Southern Crossings more highly! Fiona worked closely with us to design an itinerary that was perfectly catered to our needs, price-point and preferences. Everything they booked felt extremely authentic and unique. The itinerary was well-balanced in terms of activity, travel and accommodation. They were available and communicative in the months leading up to the trip as well as in real time during the trip. If anything went wrong I took comfort in knowing they were only a phone call away but luckily everything went extremely smoothly. The behind-the-scenes coordination made everything feel seamless and resulted in the trip of a lifetime for us
We just returned from our fabulous, fascinating trip to Australia. We loved the excellent accommodations that Southern Crossings arranged for us. Besides the convenience of the locations, we had opportunities of fabulous meals on site. We do want to revisit some at a future date. The Kangaroo Island Ocean View Eco Villas were amazing. Three Star Michelin breakfast, cocktails, and suppers included every day! Chef Tamsin has to be experienced to be believed. Thank you and your staff for all the time and effort that you did for us again!
I had a call with (my client) last night and she was telling me all about their FABULOUS trip!! … They loved everything … I made a few notes to share with you as I always feel that compliments are very important… the same goes for constructive criticism, but they were thrilled with EVERYTHING! … Once again, I truly appreciate all your hard work and thank you for planning a trip that made my client SO HAPPY!!
To say we had the time of our lives would be putting it mildly.
Your country, its people and your team could not have made us feel more welcome.
Thank you for all the special moments you enabled us to experience.
A love letter to the amazing team @southerncrossings (and a special thanks to Samantha Thomas who answered all my questions and adapted my itinerary as needed). You made my dream come true. From the tour guides to the drivers, from the accommodations to the flights, everything was perfect. You're the best in your business and I will talk about this adventure for the rest of my life.
Where to begin?! We cannot thank you enough for making our dream honeymoon come true. From start to finish it was absolutely perfect and so much more than we ever could have imagined. We still cannot believe how much you were able to fit in and each stop along our itinerary just got better and better. Working with Southern Crossings was - without a doubt - the best decision we made in planning this trip and we know, for sure, that it would not have been nearly the same without your brilliant expertise. … We are so grateful for your support around this trip and hope to work with you all again in the future as soon as we can make it back.
Just completed three weeks of travel in Australia and New Zealand with our 5 kids. Southern Crossing took great care of us by selecting properties that were worth visiting, finding local guides to help us see the sites, and recommending fine dining establishments that were superb. Well done. We would highly recommend their team.
We used Southern Crossings for our time away in the Northern Territory which has been on our wish list for years. The experience was everything we'd hoped for: from the hotels they recommended to the types and size of the tours they organised. It was perfect for our family. We loved the use of their app for up-to-date information on what was coming up and the places we had visited. I would highly recommend them and will definitely be using them again.
"Every day was more exciting than the last. Great advice and great execution all around by Southern Crossings. Highly recommend!"
If I could give Southern Crossings 10 stars I would! .. I found Southern Crossings through Town and Country Magazine and my hopes for a 5-star vacation became reality .. once we had our Zoom with Paul, we knew that we would be in good hands. .. Paul tailored EVERY SINGLE detail of what we were looking for in our trip to our needs. The itinerary was amazing, .. I expressed interest after hearing about a restaurant while in Sydney, and he helped push to get us off the extremely long waitlist. He made sure we had the BEST rooms at each hotel we stayed at .. they seriously are the best of the best.
I have worked with a lot of travel companies over the years and I'm happy to say Southern Crossings is at the top of the list. You guys were so easy to work with and so organized and on top of everything. None of those details were missed on me. My only wish is that you covered more areas in the world!!
"Southern Crossings put together the trip of a lifetime...The team was incredibly accommodating and went above and beyond to ensure we received what we asked for and more .. amazing excursions and accommodations that we will never forget across seven locations in Australia and New Zealand. We highly recommend using Southern Crossings!"
"Thank you, once again, for making our trip so seamless. We loved every place we stayed and all of the adventures you planned for us! We hope to visit again and will be sure to connect with you for that trip."