Te Manava Luxury Villas & Spa
Enjoy Rarotonga's best beach with complete privacy!
For some of the most luxurious and private villas in the country, look no further than Te Manava Luxury Villas & Spa. Enjoy the best of both worlds with immediate access to Muri Beach, or relax in complete seclusion in your private enclosed courtyard. Dine at the restaurants of neighbouring Pacific Resort, or put your full kitchen and dining facilities to use.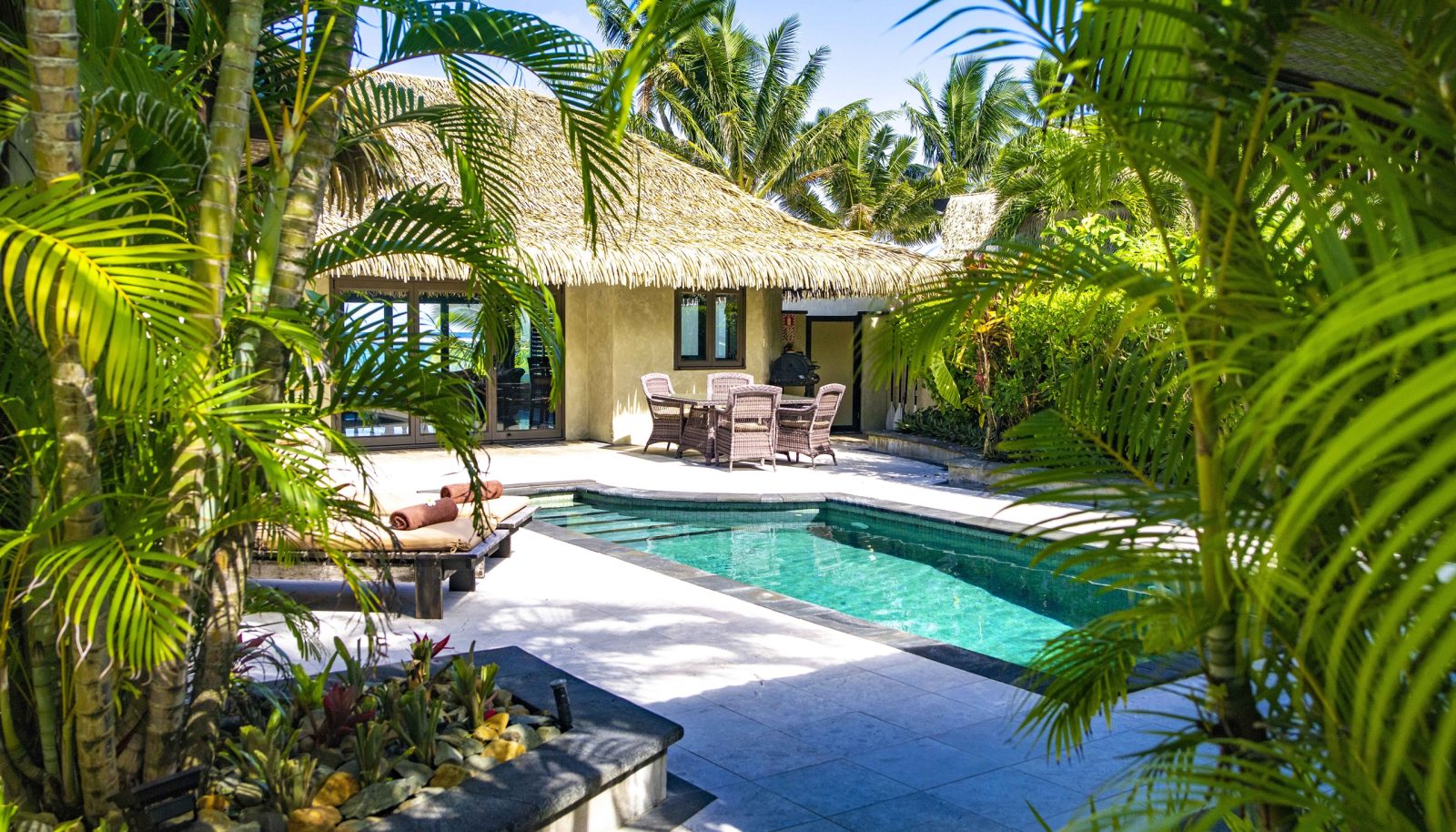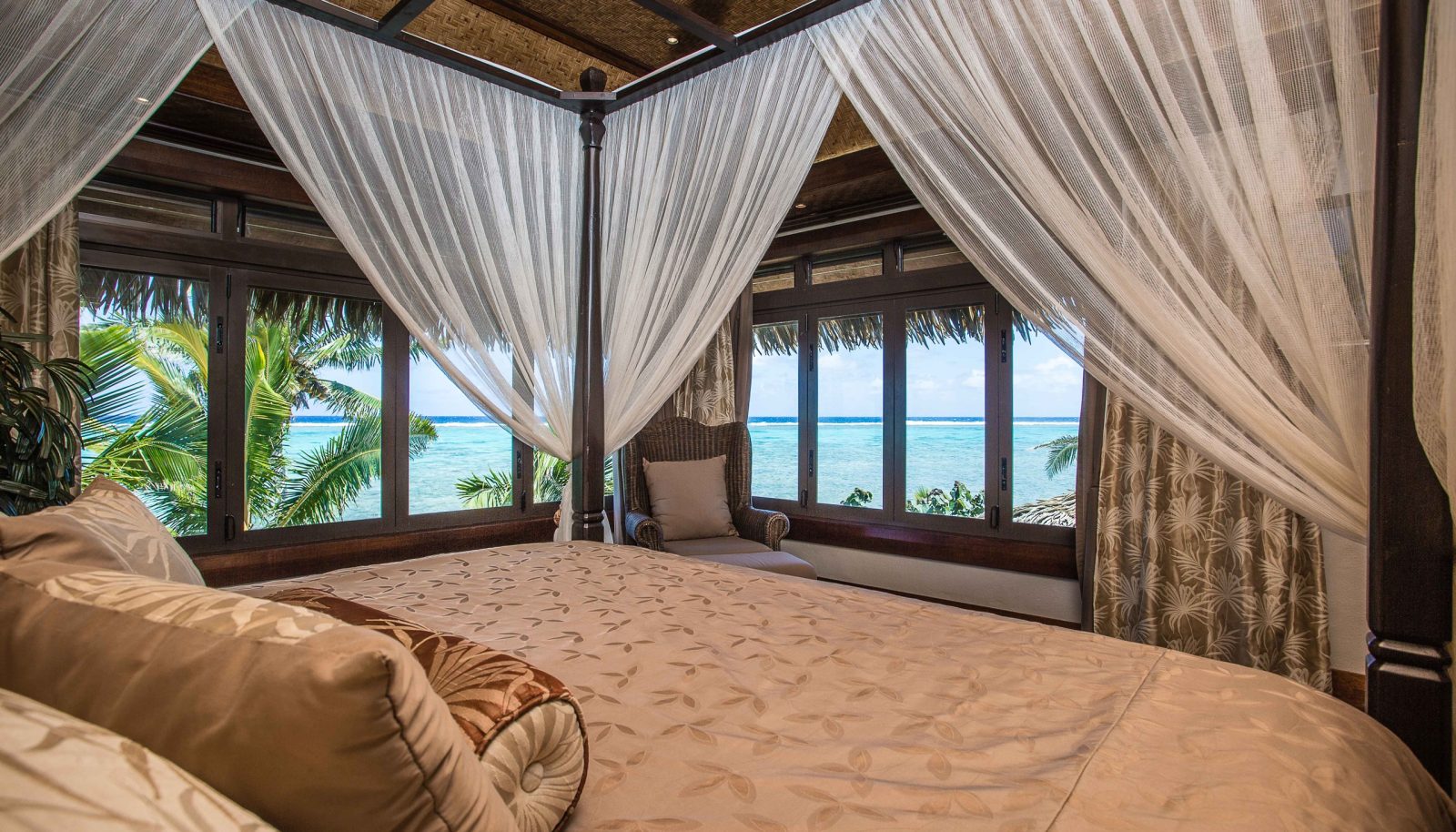 Te Manava has thirteen luxurious villas in a range of one, two and three bedroom configurations. All feature dark woods, and Polynesian touches such as thatched ceilings. Most villas are on the beachfront with direct access to Rarotonga's famed Muri Beach and the turquoise waters beyond. All villas have full kitchens, laundry facilities, and their own swimming pools.
All guests at Te Manava are granted access to the restaurants and facilities of neighbouring Pacific Resort.
Best of all, at about every stop we've been treated to some form of special hospitality, which has not gone unnoticed. Safe to say this trip has met and exceeded our expectations.
I can't begin to tell you how appreciative I am to be working with you. Thank you for all the assistance from the beginning and of course the last minute changes with the floods. Southern Crossings have made it seamless
I just wanted to tell you that our Australia trip was probably The best trip we have Ever taken!!!!!! Not only has it been in our Bucket List forever, but because of all the planning and selected vendors you and Southern Crossing chose to make it all happen, it was incredible!!!!!! Based on all the moving parts of this trip that was almost a full month of events, there was not ONE mess up… A huge thank you for doing an Outstanding job in making everything work out, and making this trip, truly amazing and magical ..
many many many thanks!!!!!!
We came thinking it would be the trip of a lifetime. Bottom line is it was better.
We have been blown away by everything - hotels, food, people, golf, wine - the list is endless. You did an amazing job
Thank you ALL for the most wonderful Australia/New Zealand adventure.
Planning a 7 week trip is daunting enough without the complications of COVID cancellations, rebookings, and closures. Yet every connection, every transportation detail, every accommodation, every meal, everything was flawless.

From our arrival in Sydney .. to our last stop in Queenstown .. we will carry with us the best memories of our trip and all of your efforts. The incredible private boat tours .. the bespoke wine tours with the best guides .. our accommodations .. and the excellent itinerary and pacing, made for a perfect trip.

We can't thank Southern Crossings enough for making this trip all, and more, than we had imagined. You allowed us to see the best of your countries: the people, the beauty, the culture. Five stars, a blue ribbon, and a gold medal to everyone at Southern Crossings!
I cannot recommend Southern Crossings more highly! Fiona worked closely with us to design an itinerary that was perfectly catered to our needs, price-point and preferences. Everything they booked felt extremely authentic and unique. The itinerary was well-balanced in terms of activity, travel and accommodation. They were available and communicative in the months leading up to the trip as well as in real time during the trip. If anything went wrong I took comfort in knowing they were only a phone call away but luckily everything went extremely smoothly. The behind-the-scenes coordination made everything feel seamless and resulted in the trip of a lifetime for us
We just returned from our fabulous, fascinating trip to Australia. We loved the excellent accommodations that Southern Crossings arranged for us. Besides the convenience of the locations, we had opportunities of fabulous meals on site. We do want to revisit some at a future date. The Kangaroo Island Ocean View Eco Villas were amazing. Three Star Michelin breakfast, cocktails, and suppers included every day! Chef Tamsin has to be experienced to be believed. Thank you and your staff for all the time and effort that you did for us again!
I had a call with (my client) last night and she was telling me all about their FABULOUS trip!! … They loved everything … I made a few notes to share with you as I always feel that compliments are very important… the same goes for constructive criticism, but they were thrilled with EVERYTHING! … Once again, I truly appreciate all your hard work and thank you for planning a trip that made my client SO HAPPY!!
To say we had the time of our lives would be putting it mildly.
Your country, its people and your team could not have made us feel more welcome.
Thank you for all the special moments you enabled us to experience.
A love letter to the amazing team @southerncrossings (and a special thanks to Samantha Thomas who answered all my questions and adapted my itinerary as needed). You made my dream come true. From the tour guides to the drivers, from the accommodations to the flights, everything was perfect. You're the best in your business and I will talk about this adventure for the rest of my life.
Where to begin?! We cannot thank you enough for making our dream honeymoon come true. From start to finish it was absolutely perfect and so much more than we ever could have imagined. We still cannot believe how much you were able to fit in and each stop along our itinerary just got better and better. Working with Southern Crossings was - without a doubt - the best decision we made in planning this trip and we know, for sure, that it would not have been nearly the same without your brilliant expertise. … We are so grateful for your support around this trip and hope to work with you all again in the future as soon as we can make it back.
Just completed three weeks of travel in Australia and New Zealand with our 5 kids. Southern Crossing took great care of us by selecting properties that were worth visiting, finding local guides to help us see the sites, and recommending fine dining establishments that were superb. Well done. We would highly recommend their team.
We used Southern Crossings for our time away in the Northern Territory which has been on our wish list for years. The experience was everything we'd hoped for: from the hotels they recommended to the types and size of the tours they organised. It was perfect for our family. We loved the use of their app for up-to-date information on what was coming up and the places we had visited. I would highly recommend them and will definitely be using them again.
"Every day was more exciting than the last. Great advice and great execution all around by Southern Crossings. Highly recommend!"
If I could give Southern Crossings 10 stars I would! .. I found Southern Crossings through Town and Country Magazine and my hopes for a 5-star vacation became reality .. once we had our Zoom with Paul, we knew that we would be in good hands. .. Paul tailored EVERY SINGLE detail of what we were looking for in our trip to our needs. The itinerary was amazing, .. I expressed interest after hearing about a restaurant while in Sydney, and he helped push to get us off the extremely long waitlist. He made sure we had the BEST rooms at each hotel we stayed at .. they seriously are the best of the best.
I have worked with a lot of travel companies over the years and I'm happy to say Southern Crossings is at the top of the list. You guys were so easy to work with and so organized and on top of everything. None of those details were missed on me. My only wish is that you covered more areas in the world!!
"Southern Crossings put together the trip of a lifetime...The team was incredibly accommodating and went above and beyond to ensure we received what we asked for and more .. amazing excursions and accommodations that we will never forget across seven locations in Australia and New Zealand. We highly recommend using Southern Crossings!"
"Thank you, once again, for making our trip so seamless. We loved every place we stayed and all of the adventures you planned for us! We hope to visit again and will be sure to connect with you for that trip."