Renowned for its highly-awarded restaurants, the Royal Mail Hotel is a true destination-dining experience. On the edge of the Grampians wilderness and only a stone's throw from the Great Ocean Road, it is also so much more!
Located at the southern tip of the spectacular Gariwerd (Grampians National Park), 3 hours west of Melbourne and 1 hour off the Great Ocean Road, the Royal Mail Hotel is a destination that celebrates fine food and spectacular nature.
The Royal Mail Hotel offers a range of accommodation in the town of Dunkeld from contemporary Mountain View Rooms to one- and two-bedroom apartments as well as the bluestone Mt Sturgeon cottages, Mulberry House and spacious Mt Sturgeon homestead nearby.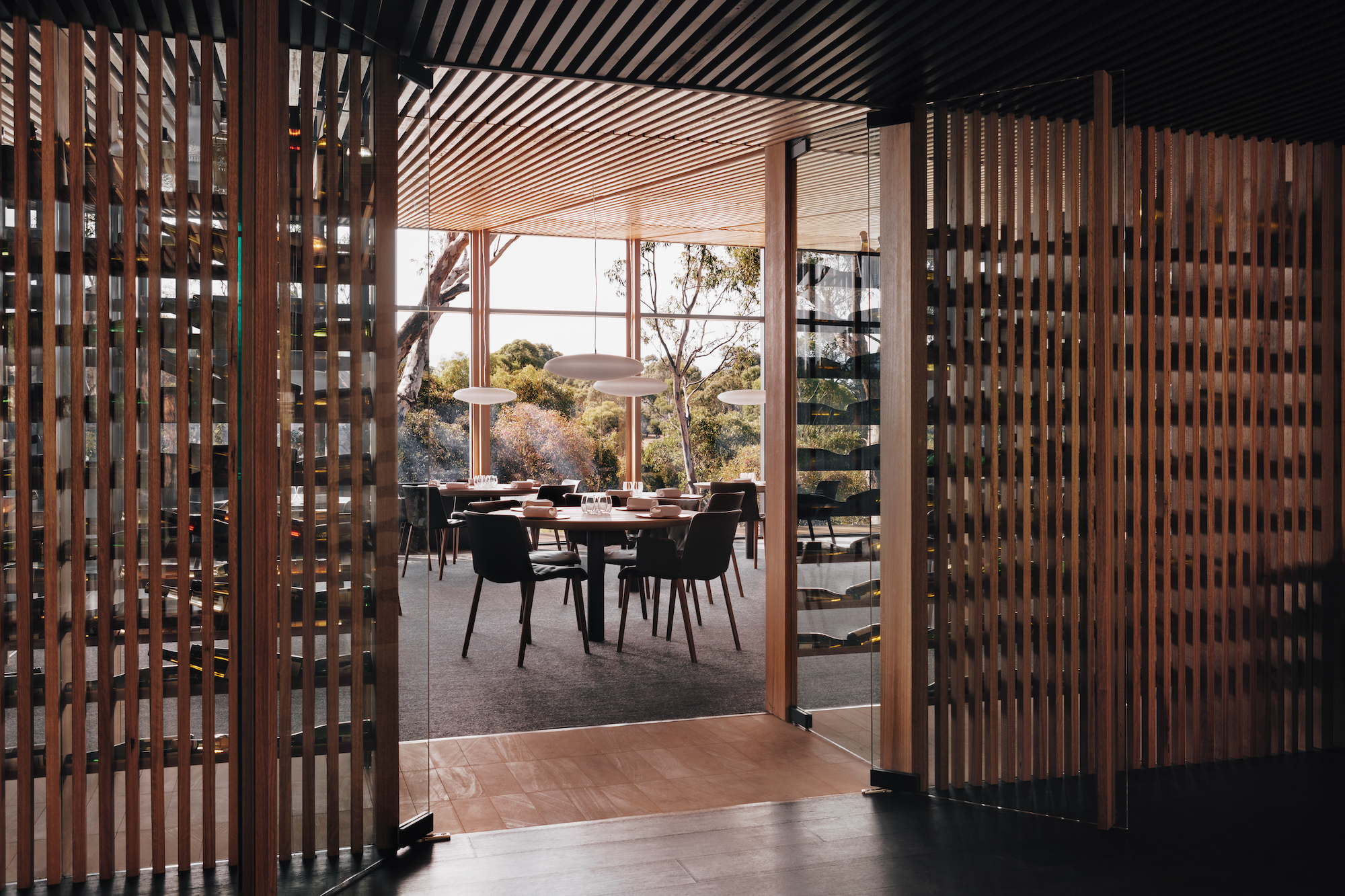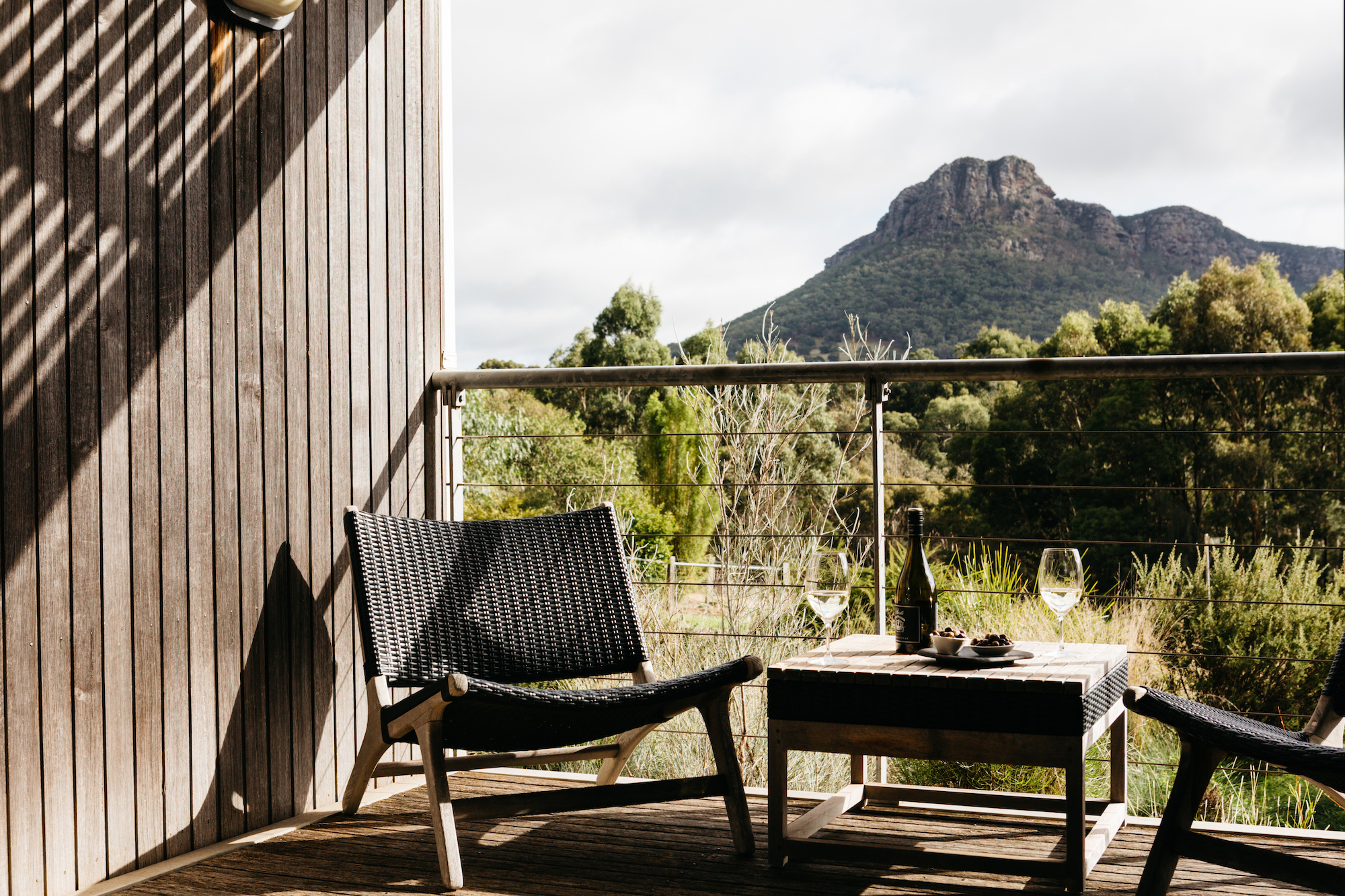 Surrounded by native gardens, the Royal Mail Hotel's seventeen architecturally designed Mountain View Rooms are decorated with local timbers and floor-to-ceiling windows look out towards the imposing Mt Sturgeon. Thoughtful little room touches like backpacks and binoculars invite guests to get out and explore the surrounding wilderness with a range of scenic hikes to suit all levels of fitness and enthusiasm. And after venturing out, the private balconies are the perfect place to unwind listening to the local birdsong. Alternatively, guests can take a dip in the refreshing saltwater pool.
A true destination dining experience the Royal Mail Hotel offers two fabulous on-site restaurants: the highly-awarded Wickens at Royal Mail Hotel degustation dining experience and the more casual and family-friendly Parker Street Project next door
Don't miss the opportunity to descend into the cavernous 30,000-bottle wine cellar with the Royal Mail Hotel's sommelier for an interactive introduction to an impressive collection of celebrated local and international wines and rare finds; or wander in the property's kitchen garden with the chefs to enjoy the Royal Mail Hotel's full culinary experience.
Wickens at Royal Mail Hotel is open Thursday-Saturday evenings for dinner and the Parker Street Project restaurant served lunch and dinner Thursday through to Saturday. Prebooking is essential for both dining rooms.
Just completed three weeks of travel in Australia and New Zealand with our 5 kids. Southern Crossing took great care of us by selecting properties that were worth visiting, finding local guides to help us see the sites, and recommending fine dining establishments that were superb. Well done. We would highly recommend their team.
We used Southern Crossings for our time away in the Northern Territory which has been on our wish list for years. The experience was everything we'd hoped for: from the hotels they recommended to the types and size of the tours they organised. It was perfect for our family. We loved the use of their app for up-to-date information on what was coming up and the places we had visited. I would highly recommend them and will definitely be using them again.
"Every day was more exciting than the last. Great advice and great execution all around by Southern Crossings. Highly recommend!"
If I could give Southern Crossings 10 stars I would! .. I found Southern Crossings through Town and Country Magazine and my hopes for a 5-star vacation became reality .. once we had our Zoom with Paul, we knew that we would be in good hands. .. Paul tailored EVERY SINGLE detail of what we were looking for in our trip to our needs. The itinerary was amazing, .. I expressed interest after hearing about a restaurant while in Sydney, and he helped push to get us off the extremely long waitlist. He made sure we had the BEST rooms at each hotel we stayed at .. they seriously are the best of the best.
I have worked with a lot of travel companies over the years and I'm happy to say Southern Crossings is at the top of the list. You guys were so easy to work with and so organized and on top of everything. None of those details were missed on me. My only wish is that you covered more areas in the world!!
"Southern Crossings put together the trip of a lifetime...The team was incredibly accommodating and went above and beyond to ensure we received what we asked for and more .. amazing excursions and accommodations that we will never forget across seven locations in Australia and New Zealand. We highly recommend using Southern Crossings!"
"Thank you, once again, for making our trip so seamless. We loved every place we stayed and all of the adventures you planned for us! We hope to visit again and will be sure to connect with you for that trip."