The Best Way to Travel in New Zealand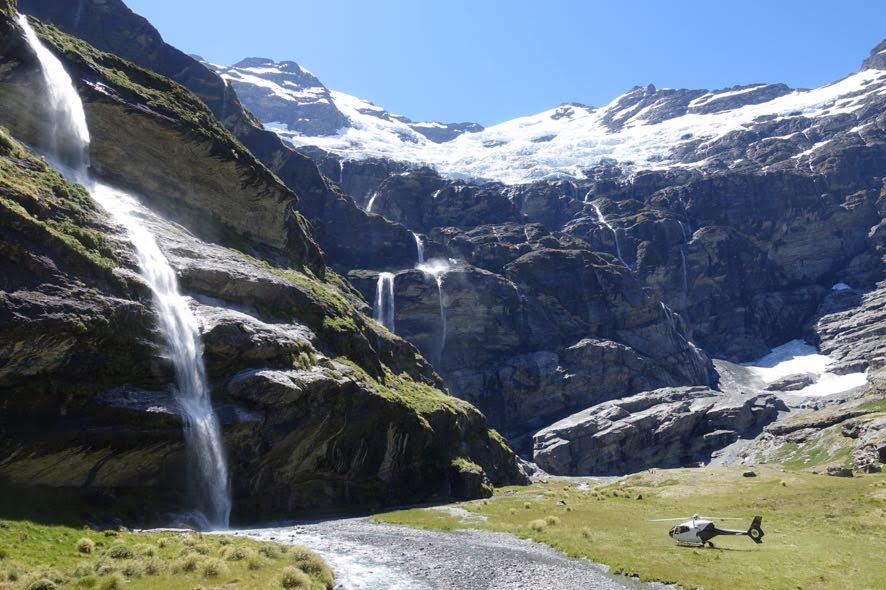 Go above and beyond with exclusive helicopter day touring options
So, what is the best way to travel in New Zealand ? New Zealand's helicopter scenic flights are not only a great way to get from A to B and transfer between luxury lodges (cutting down on travel time to make the best use of precious vacation time), they also open the way for truly 'above and beyond' touring; providing exclusive access to unique experiences, whilst showcasing the country's spectacular scenery.
We have curated and created (many of them exclusive to Southern Crossings' clients) a collection of fabulous heli-touring experiences across New Zealand. Touring options that will take you off the beaten track to otherwise out of reach places; to rarely visited corners of the country, shared only with your travelling companions.
Beyond simply scenic flights, these helicopter tours can incorporate tailored activities to suit just about every interest and passion: heli-skiing, hiking, hunting and fishing; rafting, kayaking and mountain-biking; yoga, golf, horse-riding and wine-tasting. And can introduce you to the nation's passionate farmers and fishermen, wine makers and wildlife experts.
You may choose to lunch at the most decadent wineries or picnic on picturesque alpine peaks, dine on fresh crayfish prepared lakeside by your private chef or sample regional produce straight from the farm.
Heli to a secluded mountain-top hot tub or to trek in ancient icy caves; walk on secluded beaches and ski untracked powder, paddle on remote alpine lakes and fish in secret mountain streams, tee off at 4500ft or chill-out with mountain-top meditation – these are journeys limited only by the imagination; and the following is only a small selection of the places and pursuits you can reach by helicopter:

Fiordland Kayaking
From: Te Anua or Queenstown
Heli over the majestic mountains of New Zealand's fabulous Fiordland and land on the shores of Doubtful Sound to explore secluded coves and tranquil waterways by kayak.
Milford Track Day Walk
From: Te Anua or Queenstown
Soar over Lake Wakatipu and 'Lord of the Rings' country to sample the Milford Track with a guided hike and a knowledgeable local guide by your side. Enjoy a taste of the track (usually a 4-day end-to-end hike) in just one day. (Alternatively, you can hike the Heaphy Track with a helicopter day tour from Nelson).
Marlborough Sounds and Wines
From: Nelson
Chopper over Marlborough and Queen Charlotte Sounds to appreciate their scale and beauty, and land in the Marlborough vineyards for a leisurely lunch among the vines
Back Country Fishing in the Southern Alps
From: Minaret Station, Blanket Bay, Mahu Whenua, Wanaka or Queenstown
From: Fly over some of New Zealand's wildest landscapes to fish is secret mountain streams and remote rivers, a local expert to lead the way .. and prepare your catch for lunch.
High Country Cattle Station
From: Christchurch
Heli over the Canterbury Plains, through dramatic gorges and over glistening glaciers to land at a remote high country cattle station. Meet the owners who will treat you to a lunch of delicious regional produce on their stunning private property; and walk with a national parks ranger in secluded corners of the Arthur's Pass National Park for a spectacular taste of New Zealand.
White Island
From: Rotorua
Fly over forests and farms, cross the picturesque Bay of Plenty and land on White Island, New Zealand's permanently active marine volcano. Walk the crater to explore volcanic vents and hot streams.
Abel Tasman Picnic
From: Nelson
Fly over the beautiful coastline, pristine forests and golden sandy beaches of the Abel Tasman National Park, swim in the crystal clear waters of Awaroa Bay picnic on a beach far from the cares of the rest of the world.
Waiheke Winery Lunch
From: Auckland
Head across Auckland Harbour, enjoying stunning city skyline views, to enjoy lunch at one of Waiheke's fabulous waterfront wineries.
Tongariro National Park Volcanoes, Lakes and Legends
From: Taupo
Travel over the volcanic Tongariro National Park and Mt Ruapehu, over Red Craters and Emerald Lakes whilst your pilot shares the area's local Maori legends.
Want to know the best way to travel in New Zealand – and beyond?
Contact Southern Crossings to design your personalised New Zealand luxury travel itinerary,
Or read on for more inspirational heli-touring options such as the exclusive Heart Island Day Tour on Australia's Great Barrier Reef .
and like us on Facebook / follow us on InstaGram to always stay up to date with the best ways to travel in New Zealand, Australia and the islands of the South Pacific.