South Australia Travel Tips for luxury travellers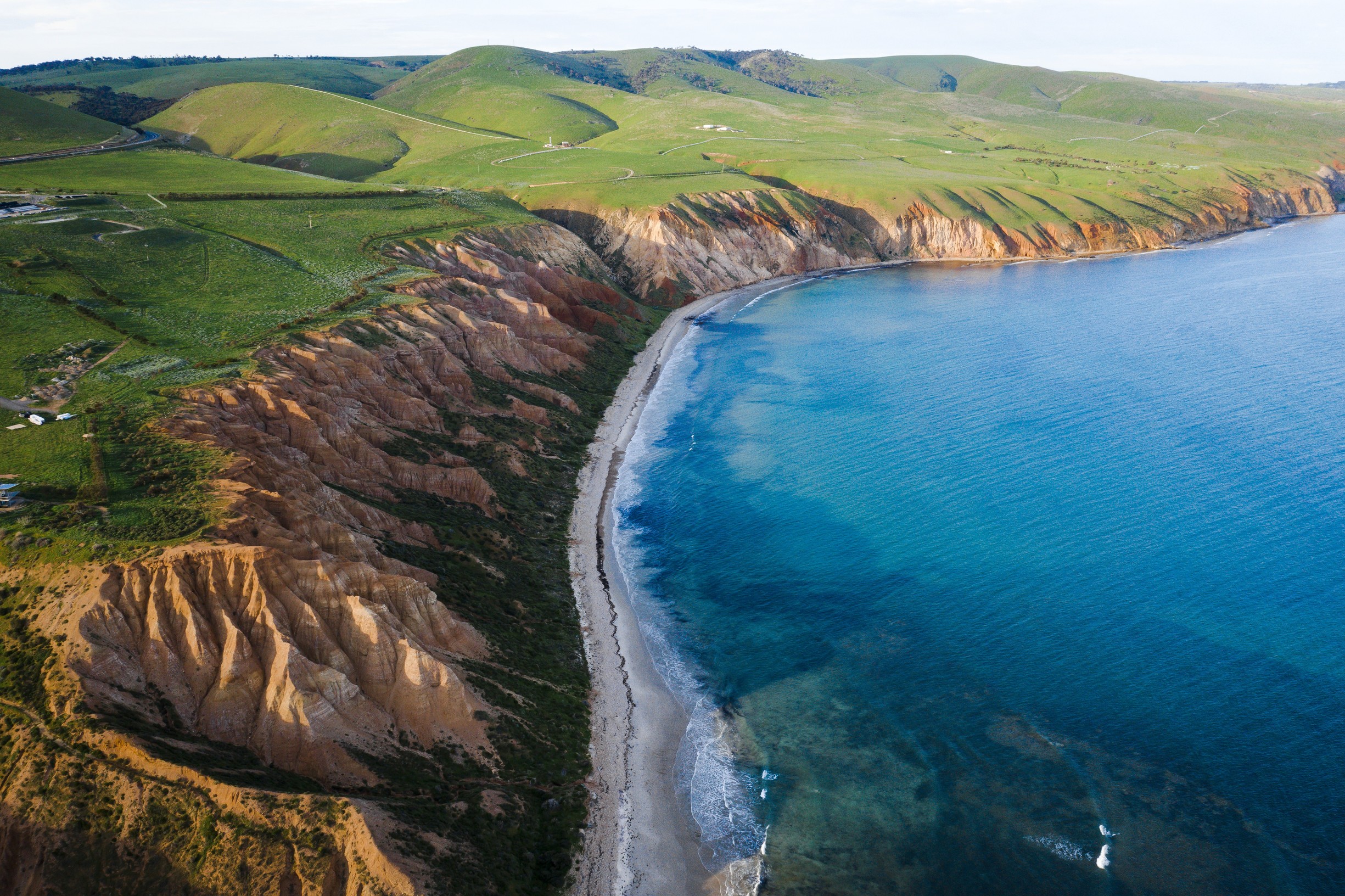 Image courtesy of Tourism Australia
What to do, Where to Stay in SA
Cycle through the vines and hike the great outdoors. Sip world class wines and savour delicious regional flavours. Walk with kangaroos, swim with sea lions and (cage) dive with Great White sharks. Cruise the mighty Murray River or ride with the legendary Ghan; Southern Crossings have dozens of great South Australia Travel Tips to suit any pursuit or passion.
From the Barossa Valley to Flinders Ranges, Kangaroo Island to Neptune Island, Port Lincoln to the Fleurieu Peninsula and beyond, we have curated a collection of South Australian inspirational itineraries – active adventures, scenic self-drives, legendary rail journeys and epic air safaris that invite you to explore the best of South Australia.
South Australia Travel Tips for discerning travellers
Great Things to See and Do in Adelaide
Heritage architecture, fine food and wine. Botanic gardens, buzzy roof-top bars and  beautiful beaches.
Get lost in the delicious labyrinth of Adelaide Central Market (or come with us to meet all the best foodie finds)
Take a private tour to really get under the skin of the city: enjoy exploring the grand arcades of downtown Rundle Mall and take in the sweeping views from the summit of Mt Lofty, meet legendary locals and uncover secret hidden gems.
Treat yourself to a stay at Australia's newest luxury lodge, Sequoia, when it opens in the Adelaide Hills (just 16km from the city centre) this November.
Great Things to See and Do in the Barossa Valley
Rolling vineyards and inviting cellar doors; boutique luxury accommodation and fabulous regional restaurants.
Let us hook you up with an in-the-know 'designated driver' to sample from some of Australia's finest wineries and showcase some of the Barossa Valley's fabulous farm gates.
Ask your Southern Crossings Travel Designer to arrange behind the scenes access, wine blending masterclasses and barrel room back vintage tastings at boutique and iconic Australian cellar doors right across the Barossa Valley.
Cycle between the vines to tour the Barossa Valley at your own pace. A network of cycling paths and picturesque country roads lead to rolling landscapes with rewarding detours.
Great Things to See and Do on Kangaroo Island
Spectacular nature, abundant Australian wildlife, stunning beach houses and delicious fresh local produce.
Walk with sea lions, swim with dolphins, enjoy canapes with kangaroos and chat with the world's leading echidna expert. Spot koalas, wallabies, possums, penguins, seals – let us introduce you to some of the most intriguing locals.
Hike in the fabulous Flinders Chase National Park to marvel at the Remarkable Rocks and Admiralty Arch.  Bushwalker, birdwatcher, foodie or photographer, we have your passion covered and can put you in touch with a local guide to showcase some of the islands' most rewarding secret spots.
For active families we can arrange fat bike bush tours, sand boarding, kayaking, quad biking and more, all in the most spectacular of natural surrounds.
For foodies, we know where to sample the most delicious fresh local produce: honey from the farm gate, local wines from the cellar door, oysters fresh from the sea and gin blended with botanicals exactly to your liking.
Great Things to See and Do in the Flinders Ranges
Ancient landscapes, breathtaking natural beauty. Wild walks and wonderful wildlife.
Take to the skies to enjoy bird's eye views (and fabulous photo opportunities) of Wilpena Pound natural amphitheatre and Lake Eyre spectacular salt lake. Scenic air tours are one of the best ways to appreciate the Flinders Ranges' grand scale and breathtaking natural beauty.
Hike one of Australia's Great Walks, the 4 day/3 night fully guided and catered Arkaba Walk is one of our favourites for a true outback Australian adventure without having to leave life's little luxuries behind.
Learn the legends of the Dreamtime touring these ancient landscapes with an indigenous elder by your side; and experience a true connection to these magic lands with an outback heli-swag overnight experience under the stars.
Great Things to See and Do in Port Lincoln
Beautiful beaches, fabulous seafood and bucket-list wildlife encounters.
Head for the beach to enjoy an Australian coastal safari without compare; 4wding on white sands to forage and fish for all the ingredients of a fine Australian feast of a BBQ seafood lunch on the beach accompanied by fine wines and locally brewed beers.
Enjoy ethical wildlife encounters with a wide range of native Australian animals. From the Big Swamp wetlands to Coffin Bay National Park, Baird Bay to Mikkira Station, see emus and kangaroos, spot beautiful birdlife and swim with sea lions, share the waves with dolphins and come face to face with koalas in the wild.
Head inland from the ocean to the outback to tour the dramatic Gawler Ranges with a 4wd safari that uncovers the wild and wonderful road less travelled.
Not for the feint hearted, but one for the bucketlist, cruise to the Ron and Valerie Taylor Marine Park to dive with some of the largest fish in the sea; the fascinating and feared Great White shark.
Great Things to See and Do in Murray Riverland
Birdwatching and stargazing, rivers and wetlands. 
Cruise Australia's Mighty Murray River aboard a paddle wheeler ,or paddle a canoe on the tranquil waters to spot a magnificent collection of birdlife.
For those with more of a need for speed, race the bends in a V8 Mustang, a superbike, Sodi Kart and more with a full-day of adrenalin-pumping motorsports.
Enjoy some of Australia's most spectacular star-studded skies in the region's internationally proclaimed Dark Sky Reserve.
Pink Lakes, underground towns, dramatic gorges and spectacular sunken gardens there's still so much to explore in South Australia, just ask us how: ausdesign@southern-crossings.com
South Australia Luxury Accommodation & boutique places to stay
From boutique retreats and vineyard stays, to iconic homesteads and spectacular private beach houses, we not only have access to South Australia's most luxurious lodgings (and some very special secret stays), we know which rooms to request,  where to dine when you're there and can curate the local experiences that turn moments into lifelong memories:
Head for Adelaide's Hennessy Rooftop Bar at the city's Mayfair hotel to enjoy hand-crafted local spirits and premium regional produce; or head for the hills to Mt Lofty Estate and stay at Australia's newest luxury lodge, Sequoia when it opens this November.
Savour a degustation dinner at the lovely Louise in the beautiful Barossa Valley and enjoy fine Aussie wines surrounded by vines at McLaren Vale's Vineyard Retreat. Alternatively, get a group of friends together to relive McLeod's Daughters memories at the iconic Kingsford Homestead on the edge of the Barossa Valley wine country.
Enjoy contemporary comforts in the rugged Flinders Ranges with a stay at Arkaba Homestead; one of the iconic Luxury Lodges of Australia, this oasis in the outback is also the base for awesome Australian adventures including the Arkaba Walk, wildlife conservation activities or a bucket-list private heli-swag outback camping experience.
Spoilt for choice on Kangaroo Island, there are luxury beachfront houses offering sublime seclusion and hosted eco-stays that showcase the best that the island has to offer.
From coastal farmstays in The Fleurieu Peninsula to the Frames luxury retreats overlooking the tranquil waters of the Murray River – or even a private rail carriage on the iconic Australian Ghan train journey – ask your Southern Crossings Travel Designer to recommend some of Australia's best places to stay.
Contact Southern Crossings' Travel Designers for more great South Australia Travel Tips
See our collection of South Australian suggested itineraries curated especially for locals and reach out to one of our talented Travel Designers to tailor a South Australia luxury travel experience that's just right for you!
or read on to explore more of our beautiful back yard with Southern Crossings' Australia Travel Tips:
10 Great Ways to Explore Western Australia
20 Great Reasons to visit the Northern Territory
Great Reason to visit Tasmania right now