Ningaloo Reef: What to see, When to visit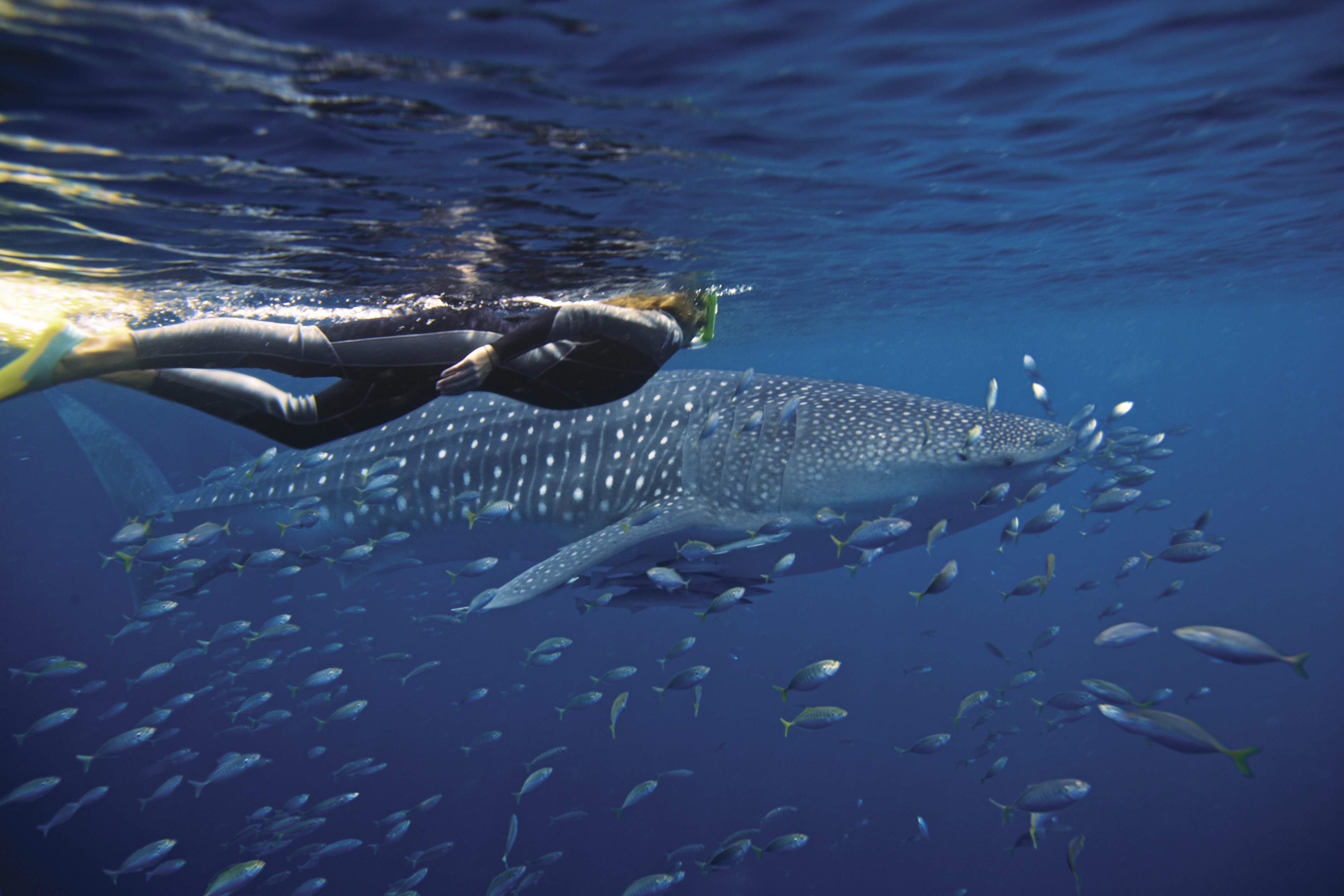 .. and Why this Great Australian Reef should be on your bucket-list
The Great Barrier Reef is without doubt one of the world's greatest natural wonders and one of Australia's most iconic attractions .. but for those seeking a path less trodden, Australia's Ningaloo Reef offers aquatic treasures and bucket-list adventures to delight even the most seasoned traveller.
On Western Australia's north-west coastline (between Exmouth and Carnarvon), Ningaloo Reef offers an underwater wonderland like no other. At more than 260kms in length, Ningaloo Reef is one of the world's largest fringing reefs and just as the Great Barrier Reef is a living aquarium showcasing hundreds of species of colourful tropical fish and vibrant corals, Ningaloo Reef is also home to a world-heritage worthy biodiversity. There are however many notable differences from the region's more high-profile east-coast 'cousin' – most notably, that in many places these treasures can be found just centimetres from the surface and only metres from the shore, making it one of the most accessible reef experiences around.
Where the Great Barrier Reef is backed by lush green ancient rainforests, here, the outback meets the sea in a striking collision of colour; the turquoise waters lap crystalline white sands that rise up to meet the baked red desert earth.
Where the east coast is dotted with townships and tourists, these far north west reaches of Australia are sparsely populated and scarcely visited by international travellers. No high-rise hotels here.. but luxury travellers need not fear, we know just the place where you can rest your head and reconnect with the awe-inspiring nature that surrounds you – nestled in amongst the dunes a collection of eco-luxe safari tents offer comfortable beds, ensuite bathrooms and chef-prepared meals.
Why should Ningaloo Reef be on traveller's bucket-lists ?
Ningaloo Reef Marine Park is home to turtles and tropical fish, dolphins and dugongs, manta rays and more – plenty reason enough for most visitors to pop on a snorkel and simply dive in .. but here the opportunity to swim alongside some of the most majestic creatures and gentlest giants of the sea is without doubt the greatest bucket-list experience.
Whalesharks, the world's biggest fish (that can reach lengths of up to 18m/60ft!), visit these waters each year between March and July. Nowhere on earth do they congregate in such numbers or so close to land. Feeding on tiny krill, these gentle creatures glide gracefully just a few metres below the water's surface making this an experience accessible to any confident swimmer (including children over 5 years of age).
Their somewhat smaller cousins, the  humpback whales (coming in at lengths of up to 'only' 15 m / 49ft)  also visit the region on their annual migration between Antarctica and warmer breeding waters in the Kimberley (July to October). Visitors to Ningaloo during this time can also have the extraordinary experience of swimming with these inherently curious creatures of the deep.
With safety and conservation the primary considerations, these extraordinary wildlife interactions are heavily regulated and visitor numbers strictly limited (with swimmers restricted to 10 in the water at any one time with the whalesharks and just 5 for humpbacks), ensuring both maximum enjoyment and an ethical encounter.
What else is there to see and do in Ningaloo ?
Whilst the reef – and all who live in it – are the main attraction here, there is so much more to explore than 'just' the reef:
With continental shelf so close to the shore, Ningaloo's nutrient-rich waters attract a plethora of pelagics: trevally and tuna, marlin and mackerel, as well as swordfish and sailfish, mahi mahi and many more that make for some of the finest game fishing to be found in Australian waters.
The windy waters off Exmouth invite wind and kite-surfers, whilst surfers are drawn to Dunes Surf Beach to ride the waves.
Back on dry land, fascinating indigenous legends (dating back some 30,000 years) and wonderful native wildlife can be found in the dramatic gorges and canyons of the neighbouring Cape Range National Park. Hike, cruise of kayak to spot black footed wallabies jumping nimbly on the red rock walls and emus meandering across the plains.
The Ningaloo coast is also recognised as one of the most important nesting grounds in the world for green and loggerhead turtles. Alternatively head for the dunes to watch. Nestle into the dunes at to watch females nesting and hatchlings returning to the sea.
And the sky really is the only limit when it comes to adventures in Ningaloo – visitors have the opportunity to pilot a microflight over the stunning turquoise waters (also keeping a watchful eye out to spot the whales beneath!).
From star studded skies, perfect for stargazing to mesmerising sunsets over the Indian Ocean, visitors' days are filled with awe-inspiring adventures.
When is the best time to visit Ningaloo Reef ?
Ningaloo offers a year-round calendar of natural wonders:
April to July – Whale Sharks
With whaleshark swims the star attraction, this is the most popular time to visit, and visitors (particularly luxury travellers) are recommended to book early to secure availability.
July to October – the Humpback Highway is at its peak
Again, visitors wanting to live out their bucket-list experience of swimming with humpbacks are advised to book early. (Keen surfers should also note that this is prime time for optimum surf swells).
November to March – Turtle Nesting
This is the time to see female turtles making their way up the sands to settle their nests and tiny hatchlings making the arduous journey back out to sea. It is also important to note, that whilst the region is able to make the very enviable claim of more than 320 days of sunshine each year, this is the tropics – the Australian summer months (December-March) can be uncomfortably hot and humid, with the chance of tropical cyclones developing along this coast.
March to April – Coral Spawning
This natural underwater phenomenon that regenerates the reef, takes place between 7 and 10 days after the full-moon in March or April, and not only presents a spectacular sight for lucky divers but creates a veritable feast that will attract all kinds of sealife over the coming months.
To tailor a personalised luxury adventure to Australia's Ningaloo Reef or for further inspiration and luxury travel ideas across our regions contact your Southern Crossings Travel Designer today.