Fishing adventures in Australia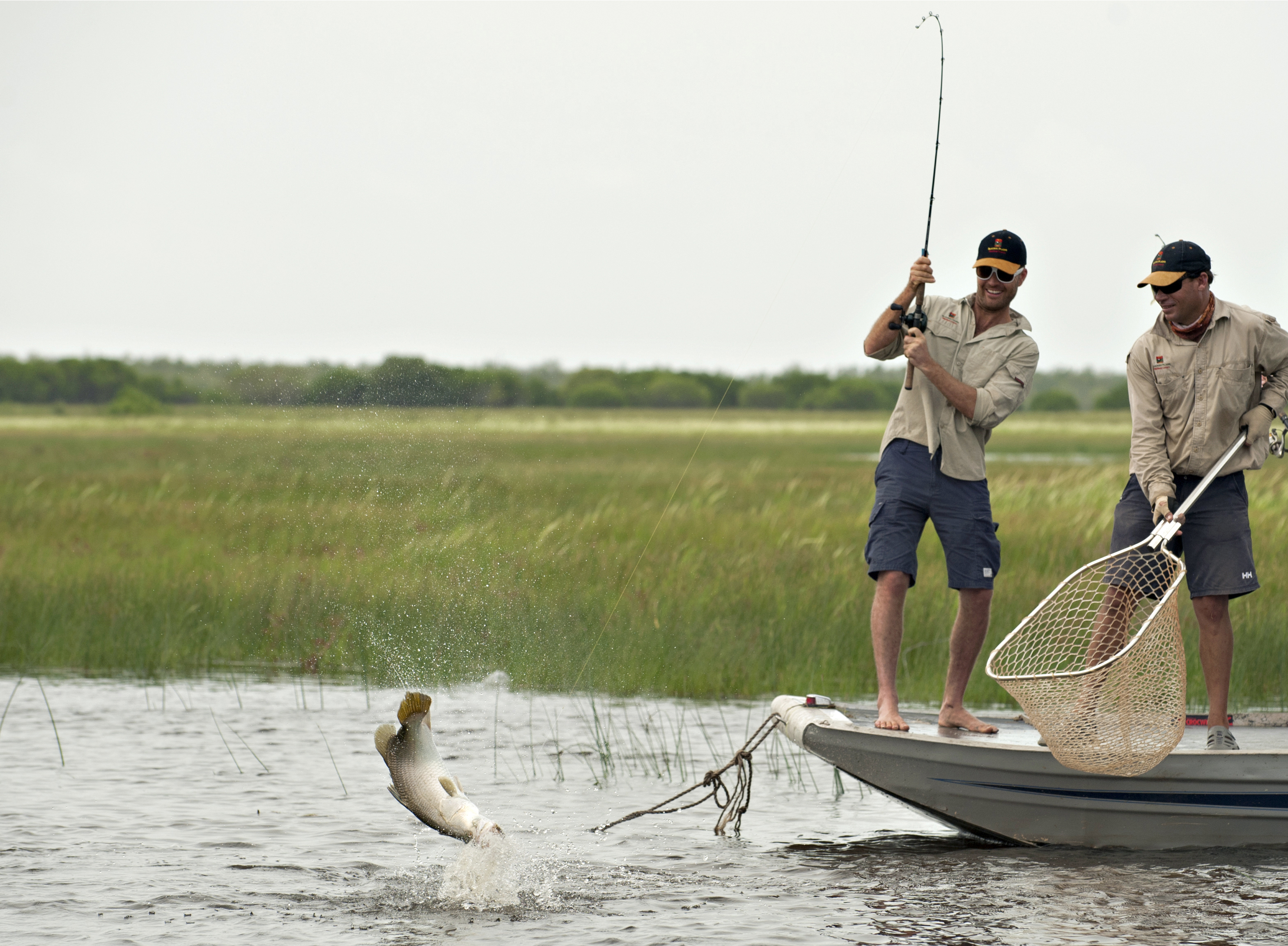 A collection of the finest fishing follies and angling adventures in Australia
Australia's rivers, lakes, coasts and waterways dish up a collection of world-class fishing adventures. Here we've put together a selection of five of our favourite fishing adventures in Australia for fishing fanatics and amateur anglers alike – one stay and we're sure you'll be hooked:
Heli-fish where few have gone before
Fish corners of the planet where very few have gone before you. Cruising remote reaches of Australia's West Coast with a True North small expedition cruise. Designed to go where no other ships can go, you can take up the opportunity to heli to the remote rivers and waterholes of the Kimberley to try your luck at catching a fabled fighting fish, the legendary Australian Barramundi. Visiting a range of different marine environments, with experienced expert fishing guides (and all the latest gear) on board, keen fishermen (and women) can also hook themselves a golden snapper, some delicious whiting or perhaps even a mighty sailfish or a feisty mud crab. The on board chefs are also always more than happy to cook your catch. One of the finest fishing adventures in Australia for sure!
Best time to cruise the Kimberley: May to October
Bait a Barramundi at Bamurru
The best time to fish the Top End is during the run-off (February – April) as the tropical wet season flood waters recede. Bamurru Plains safari-style camp opens as a dedicated fishing lodge each February- April to provide a base for avid anglers to access the Top End. Here the highlight is without doubt an airboat fishing adventure. During the wet season almost 100 square kilometres of the station is covered in water providing the ideal habitat for baitfish to breed in the warm shallow waters of the floodplain. Guests of Bamurru Plains have exclusive access to these floodplains with a fleet of purpose-designed airboats.
The coastal floodplains, billabongs, estuaries and tidal rivers continue to serve up fishing adventures from Bamurru Plains (open as a luxury lodge from 1 May through to 31 October) with fabulous heli-fishing adventures to remote locations. The chefs at Bamurru are always happy to cook your catch.
Bamurru is open May to October, and operates as a dedicated fishing lodge February to April.
Lure a Lizard Island Marlin
Australia's most northerly island beach resort, the wonderfully remote Lizard Island on the Great Barrier Reef is renowned for some of the best big game fishing in the world. For keen fishermen there are few greater thrills than chasing Black Marlin in these azure waters. Anglers from around the globe are drawn to the Lizard Island Classic (Tag and release deep sea fishing competition, held annually in October). The Outer Reef can be reached with the luxury island resorts' 51ft Riviera Platinum Model Flybridge Cruiser with the promise of hooking mackerel, tuna, Trevally, mahi-mahi, sailfish; coral trout or Red Emperor. The Lizard Island chefs are more than happy to cook your catch.
All fishing is conducted in accordance with the Great Barrier Reef Marine Park Authority's zoning.
Black Marlin season: September – December.
Throw a line in at Thousand Lakes Lodge
Tasmania's clear waters and wild brown trophy trout offer some of the best fishing adventures in Australia and attract fly-fishers from all corners of the planet. Head out from Thousand Lakes Lodge with an expert local by your side to learn the art of casting and stalking .. or to simply discover hidden lakes and streams teaming with trout.
Most waters are open to trout fishing between August and May.
Can you keep a secret ?
Lord Howe Island is one of our favourite hidden gems. The tiny island in the Pacific (just a 2 hour flight from Sydney or Brisbane) is surrounded by turquoise waters teaming with a diversity and abundance of fish and no commercial fishery. Here, you can hook a pelagic (Kingfish, Yellow Fin or Wahoo), chase game (Blue, black or striped Marlin) or throw a line in for your dinner (from a boat, jetty or beach). There is fishing fun to be had by all the family.
Alternatively, the Ned's Beach Sanctuary Zone offers the opportunity to hand feed a colourful kaleidoscope of fish as you wade in the crystal clear waters.
Contact your Southern Crossings Travel Designer to tailor your ideal luxury fishing adventure in Australia .. or read on for more angling adventures in New Zealand.