A luxury travel guide to Australia's Kimberley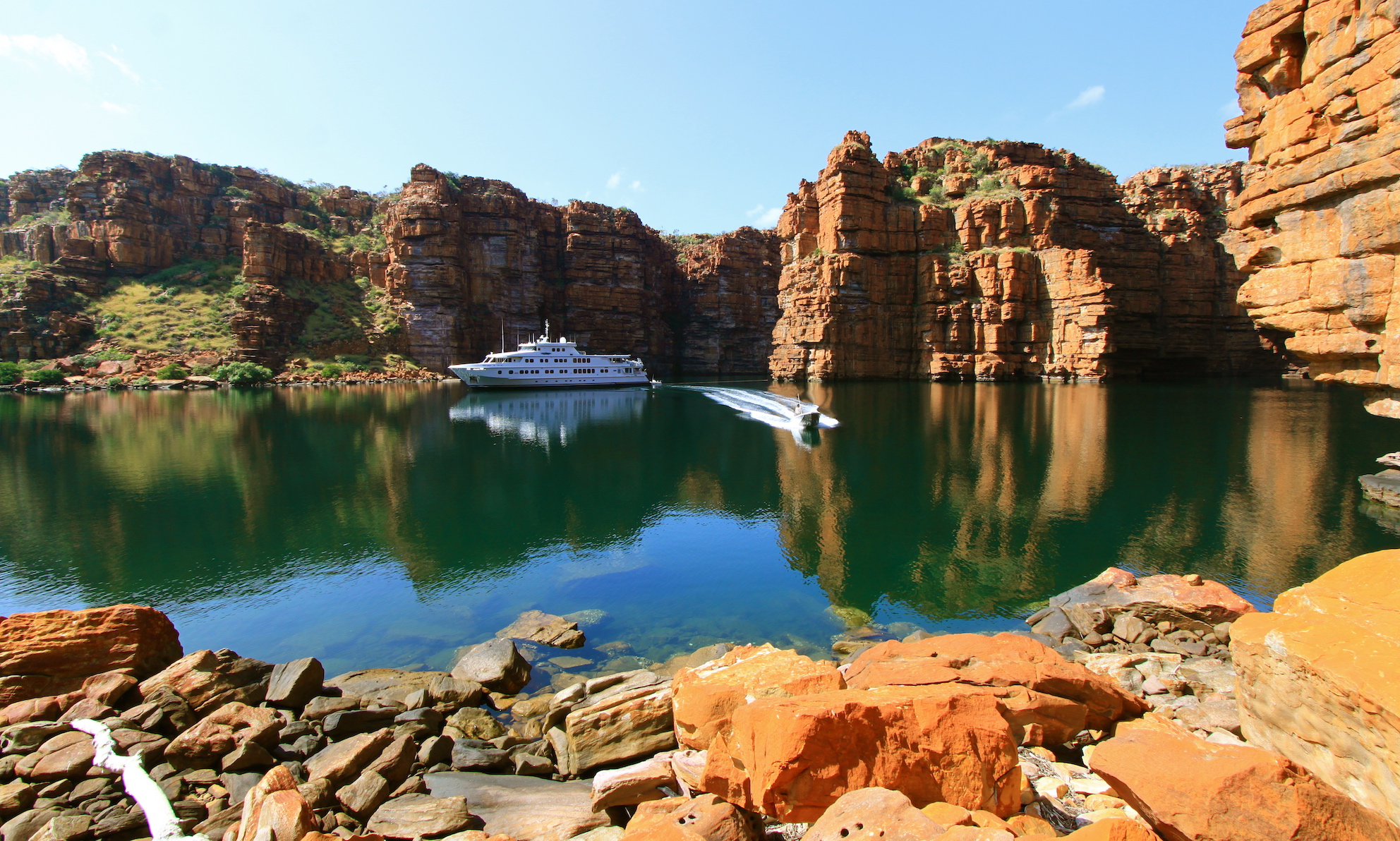 What to See, Where to Stay, How to Get there, When to visit Australia's Kimberley
Australia's Kimberley – one of the world's most spellbinding wilderness frontiers – has been named among Conde Nast Traveller's Top 10 Destinations to visit in 2021 (following on from the region's Top 5 ranking in the New York Times' 52 Places to Go this Year, 2020). At Southern Crossings, we too are big fans of this most spectacular corner of Australia that holds countless treasures and hidden gems for the luxury traveller. Here, we share our top tips for what to see, how to travel, where to stay, and when to visit the Kimberley:
WHAT TO SEE AND DO IN AUSTRALIA'S KIMBERLEY
Two billion years of natural history, from the outback to the ocean, showcase a diversity of spectacular landscapes that are without compare; red earth, turquoise waters, golden sandy beaches and pockets of lush green rainforest.
From the Buccaneer Archipelago to the Bungle Bungle, dinosaur footprints and Dreamtime stories etched in stone, pink diamonds and precious pearls, tranquil waterholes and thundering waterfalls, sparkling waterways and star-filled skies .. there is so much to see and do in the beautiful Kimberley.
Escape the crowds, get lost in the landscape .. each day offers new adventures – from sunrise to the spellbinding sunsets over the Indian Ocean. Luxury travellers are spoilt for choice with buckets of Australia's bucket-list travel experiences. Ride a camel on Cable Beach, catch a Barra, cruise with crocs, spot brolgas dancing and whales migrating. Take a seaplane flight to the Horizontal Falls and jet boat through them with the tropical tides. Wander through gorgeous gorges and soak in breathtaking natural thermal springs. Heli over the towering domes of the Bungle Bungle and hike to see ancient aboriginal rock art.
This is Australia at its breathtaking best!
HOW TO TRAVEL AUSTRALIA'S KIMBERLEY
The Kimberley is a remote piece of this planet, approximately three times the size of England (with a population of less than 40,000!). Distances are vast but that is part of the appeal .. here, the journey is all part of the destination.
Small ship expedition cruising – on a scheduled or private charter basis – is one of the most spectacular ways to experience the region. Cruising remote waterways, inaccessible by land or by larger vessels, takes you to some of the most stunningly secluded places on the planet: Montgomery Reef that rises spectacularly from the sea with the tides, the 'Bradshaws' ancient rock art and King Cascade Falls just to name a few. Heli picnic on picturesque escarpments and hike to hidden waterfalls.  Small group expedition cruises of the Kimberley operate from late April through to October. Itineraries vary in length – generally between 7 and 14 days.
Heli-touring – a private heli tour offers access to places where very few have set foot before you and provides perhaps the best appreciation for the sheer scale of this vast wilderness area. A six-night luxury helicopter safari showcases the best of Australia's Kimberley in jaw-droppingly spectacular style – from the remote and rugged coastline, dramatic waterfalls and vast waterways to the heart of the Australian outback and authentic working cattle stations. See it all and sleep in comfort, overnighting at some of the region's most luxurious lodges. Enjoy guided hikes, see ancient rock art and swim in secluded waterholes; take up the opportunity to fish for barramundi or horse ride across the outback – these itineraries can be personalised to your interests and preferred activity level.
4WD – Not for the faint-hearted, this 660km (410 miles) outback adventure between Derby and Kununurra is one of the country's greatest 4WD touring routes – dramatic gorges, wonderful waterfalls and wide open spaces stretch out before you.
We can also tailor a ground or air touring itinerary with private guide to experience the best that the Kimberley has to offer.
Ask us also about the wide range of local adventures available on horseback or camelback, by floatplane or jetboat.
The Kimberley is best accessed from Broome (on the Western Australian Coast); or Kununurra (in the heart of Western Australia's outback).
KIMBERLEY ACCOMMODATION – #FiveoftheFinest places for the luxury traveller to stay
Despite being surrounded by one of the most remote wilderness frontiers, there is no need to give up life's little luxuries with a collection of luxury lodges, comfortable camps, welcoming homesteads and tropical resorts to choose from:
El Questro – Chamberlain Gorge
Set on 700,000 acres of rugged Australian outback, 100kms from the nearest town, El Questro Homestead is an oasis of understated luxury perched on a clifftop above the stunning Chamberlain Gorge. Boasting endless vistas over the vast Kimberley, the nine-suite adults-only luxury outback hideaway offers a personalised immersive Kimberley experience and a welcoming base from which to enjoy outback adventures from fishing and horse riding to Heli touring and hiking.
The Bullo River Station – East Kimberley
One of Australia's most iconic outback cattle stations offers 12 beautifully decorated guest rooms (with ensuites and air-conditioning) in the main homestead and a pair of lake view huts in a secluded corner of the property. Enjoy an authentic window into life in the outback, with opportunities to fish for barramundi and ride on horseback alongside a local, hike, cruise or 4wd to explore the property's vast and scenically spectacular surrounds.
Cable Beach Club – Broome
With two pools, tennis courts, a gym, decadent day spa and a choice of dining options, this resort style property on the beach invites tropical-paced relaxation. A choice of studios, suites, apartments, villas, bungalows and beach shacks set amongst lush tropical gardens reflect the Asian and colonial influences that have shaped and coloured Broome.
The Billi – Broome
For something a little more boutique and unique in Broome, the Billi  is affectionately called after the local Indigenous name for the coastal area of Cable Beach; Bilingurr. Complete with kitchenettes, ensuites (with free-standing bath) and a private outdoor deck and BBQ, the luxury safari-style glamping accommodation is nestled in the property's tranquil tropical gardens. Guests also enjoy use of the resort pool and bicycles to explore the surrounds at their own pace.
Mornington Wilderness Camp
In the heart of the Kimberley, owned and managed by the Australian Wildlife Conservancy, Mornington Wilderness Camp offers the opportunity to immerse yourself in the rhythms of the outback. Set on more than 3000 square kilometres, 11 safari-style tents (with ensuite and private balcony) offer a comfortable base from which to explore one of Australia's most remarkable wildlife sanctuaries – home to more than 200 species of birds and a diverse collection of native animals, that can be best observed with a range of guided walks and canoe tours.
WHEN TO VISIT AUSTRALIA'S KIMBERLEY
Occupying the north-western corner of Australia, the Kimberley enjoys a tropical climate, so the most comfortable time to visit is generally between April and October. Early in the season (April and May) are when the waterfalls are at their thundering best and later in the season (August to October) is the time to spot migrating humpback whales and see the native wildflowers in bloom.
"Out of Season" highlights include turtle nesting (Broome: October to February), dramatic thunderstorms and lush green landscapes (January – March).
Many of the region's iconic lodges including El Questro, Berkeley River Lodge, Bullo River and Home Valley Station Station – have annual closures over the 'wet'.
For more great travel tips and insider insights into Australia's Kimberley
or to weave this magical destination into your next Australian vacation  – contact your Southern Crossings Travel Designer who can curate a Kimberley adventure tailored just for you. See Australia's Kimberley with the Conde Nast Top Travel Specialist for Australia.
Keep reading for more great Western Australia luxury travel inspiration and some of Australia's Best Outback Luxury Travel ideas.