A collection of romantic luxury accommodation Down Under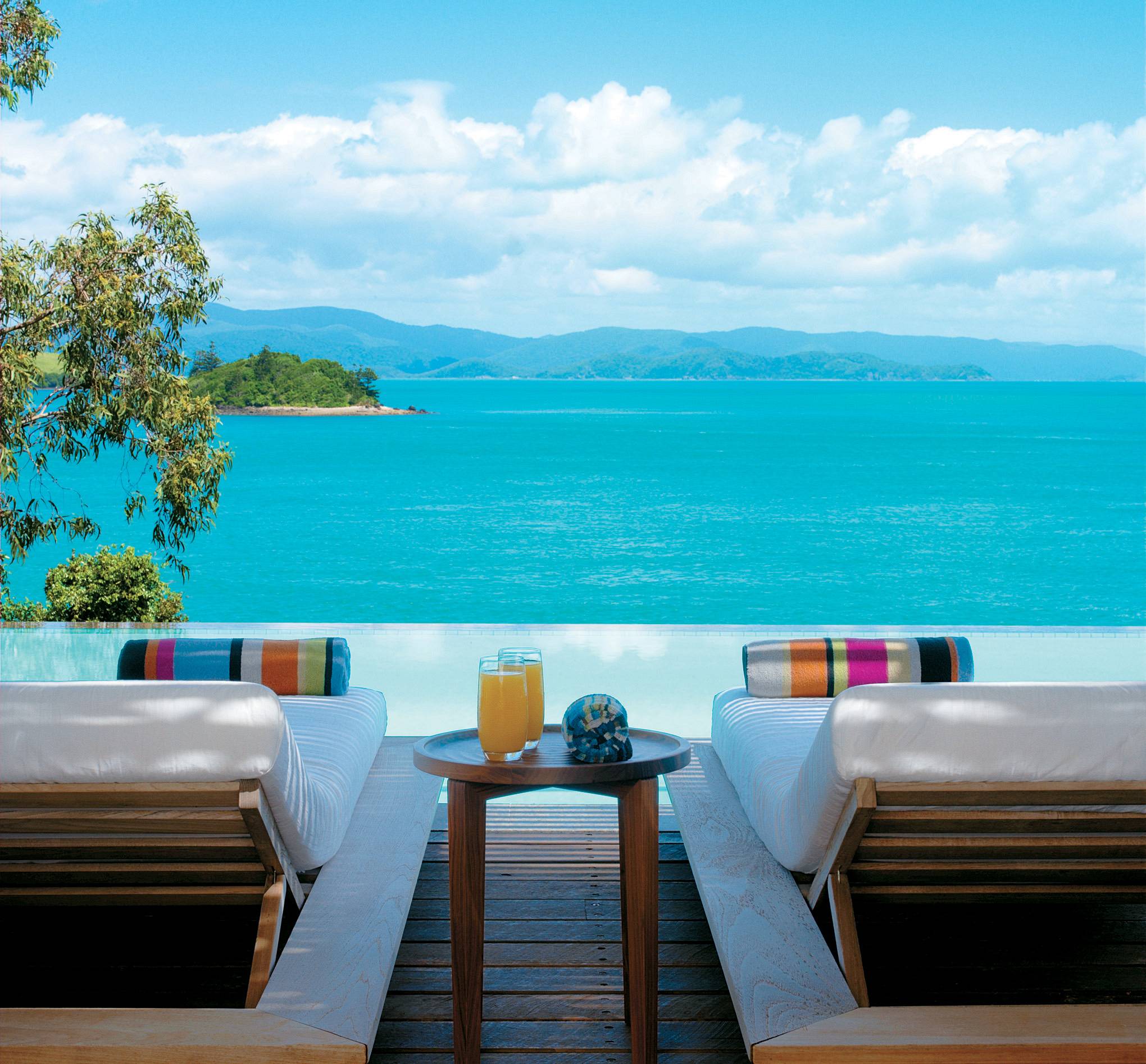 Looking for romance? We have your perfect place
An escape from the everyday and from the cares of the rest of the world – there is something about an island holiday that offers the perfect opportunity for a romantic getaway. Whatever the season, whatever the reason we're thrilled to share of some of our favourite island resorts across Australia and New Zealand to celebrate a honeymoon, an anniversary, an intimate destination wedding or just a special luxury holiday for two. A collection of Australia and New Zealand's finest romantic luxury accommodation:
Qualia on Hamilton Island; an adults-only retreat in the heart of the Whitsundays offers private pavilions with their own plunge pool overlooking the Coral Sea. Take a breathtaking scenic flight over the Great Barrier Reef (including the aptly named 'Heart Reef') before landing on Whitehaven Beach (repeatedly voted among the best beaches in the world) to toast the day with a glass of sparkling wine.
Orpheus Island surrounded by the Great Barrier Reef provides an idyllic tropical retreat and is among the most romantic luxury accommodation in Australia. With more private beaches than there are guests, it's never too hard to find a secluded beach to enjoy a gourmet picnic for two .. but not to be missed is their signature Dining with the Tides experience – a private dinner for two on the pier watching the sunset to dine under a canopy of stars.
Capella on Lord Howe Island. With just nine guestrooms and no children under 10 years of age, Capella which overlooks Lover's Bay on the World Heritage Listed subtropical paradise that is Lord Howe Island offers  a complete change of pace.
Southern Ocean Lodge on Kangaroo Island provides a very different but no less romantic island experience. Enjoy breathtaking views over the island's remote and rugged coastline from your spa bath, from the day bed on your private sundeck or from the fireside in your luxury suite.
Saffire Lodge on the island state of Tasmania's Freycinet Peninsula invites guests to enjoy scenic walks to spectacular locations such as Honeymoon Bay, revitalises couples with their signature dual renewal spa treatments for two and cocoons honeymooners in luxuriously pavilions – some with their own plunge pool and the option of an in-suite dinner prepared by a private chef.
Across the Tasman, New Zealand offers even more romantic island escapes:
Waiheke Island, just 30 minutes by ferry from downtown Auckland (or a very scenic 10 minutes by seaplane) offers a relaxed friendly welcome and no shortage of vineyards, sophisticated restaurants and long sandy beaches. The Boatshed offers luxurious beachside accommodation in just 7 suites and bungalows accompanied by life's simple pleasures (such as a romantic stroll on sun-drenched beaches or an intimate private dinner for two).
The Bay of Islands, only an hour from Auckland by helicopter, offers breathtaking beauty at every turn and Eagles Nest's 5 luxurious villas offer the ultimate in indulgence, luxury and privacy. With private chefs, butlers and personal trainers on stand-by there is really no need to leave … that is however unless you'd like to swim with dolphins, cruise the crystal clear waters dotted with more than 140 picturesque islands or enjoy a meal at one of the relaxed waterfront restaurants in Russell.
The South Island's Abel Tasman National Park is the place to get outdoors and explore stunning waterside walks, deserted golden beaches and kayak in crystal clear waters. The region's idyllic climate also invites visitors to follow a delicious winery and orchard trail .. and Split Apple Retreat is the place to relax and be pampered with health and wellness at the very core of everything they offer.
The South Island's Southern Alps offer indulgence and adventure of a different kind. Surrounded by untouched wilderness, in a glacial valley accessible only by helicopter, Minaret Station is the place to escape from it all. Enjoy relaxed evenings in your hot tub on the deck or a romantic heli-picnic to celebrate on top of the world.
With nearly 9000 islands across Australia and New Zealand there really is a romantic island escape for everyone .. and we haven't event begun to talk about the idyllic islands of the South Pacific. Contact ausdesign@southern-crossings.com or nzdesign@southern-crossings.com with your ultimate wish list and we'd love to tailor the perfect romantic island escape just for you.
Want more romantic luxury accommodation inspiration?
Read on for more romantic luxury accommodation and experiences in Australia, New Zealand and the South Pacific; or contact Southern Crossings to start planning your personalised luxury travel itinerary.
Image courtesy of: qualia, Hamilton Island.