East Kimberley, Northern Territory
Set on a 500,000-acre working cattle property in a remote corner of the East Kimberley, Bullo River Station offers an authentic window into life in the outback in combination with a collection of unforgettable Australian adventures.
Made famous by Sara Henderson (Australian cattle farmer and author: From Strength to Strength), Bullo River Station continues to operate as a working cattle station, whilst also providing a unique luxury outback travel experience balanced with a genuine commitment to environmental and indigenous conservation.
Cruise the Bullo River Gorge, fish for barramundi and swim in secluded waterholes. Join in the station activities or head out wildlife spotting and birdwatching. Tour these ancient landscapes (dotted with Aboriginal rock art and insta-worthy vistas) on foot or on horseback, by 4WD, heli or quad bike.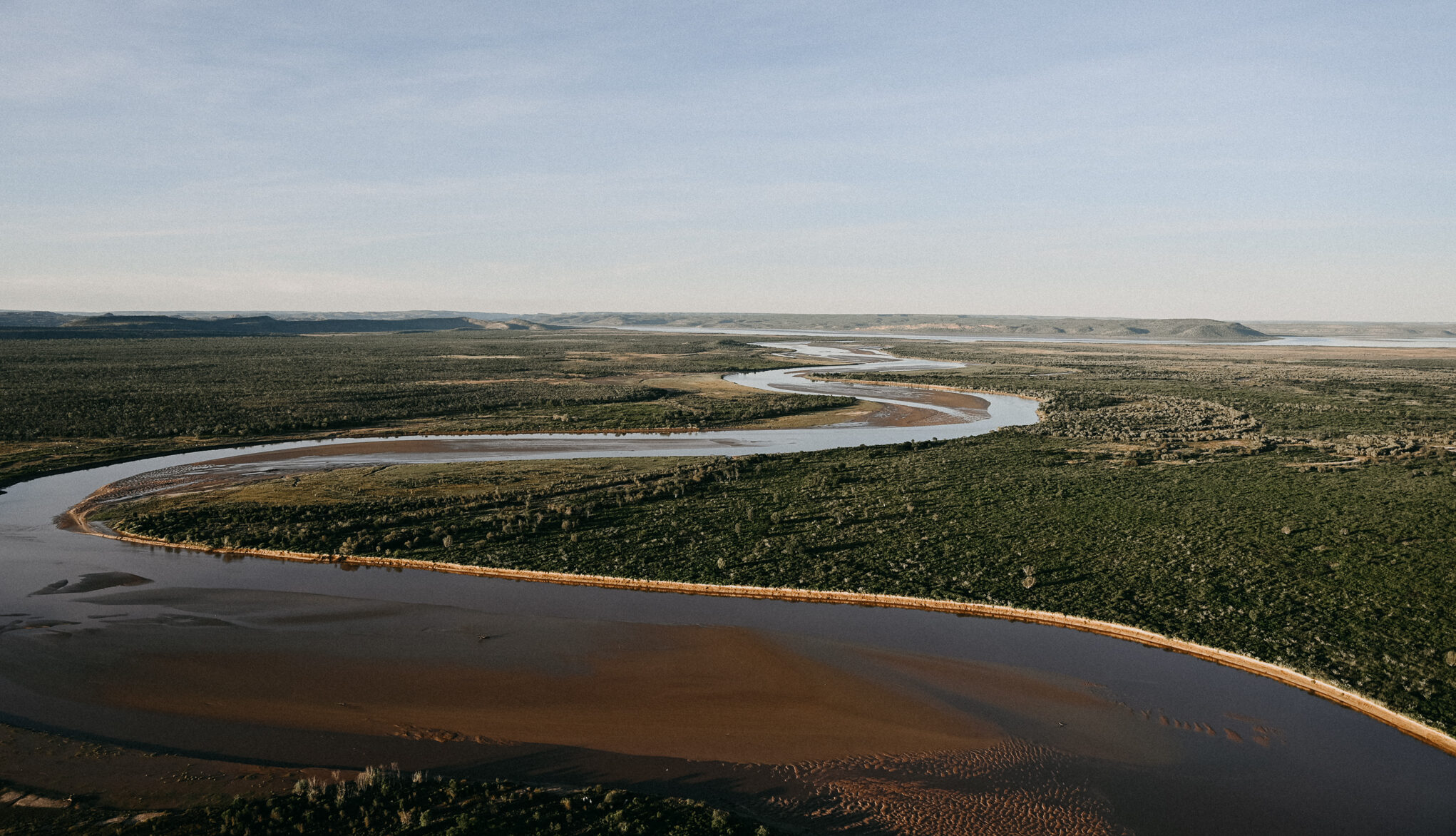 Visit Bullo River Station between May and September (selected dates) for the added opportunity to witness outback cattle mustering in action. At Bullo River homestead, enjoy lazy afternoons by the pool, in a hammock between the palms or sharing a sundowner with your fellow guests looking out over the outback plains.
The original Bullo River Station homestead houses twelve air-conditioned and en-suite guest rooms (beautifully styled by Australian interior stylist, Sibella Court). Enjoy wholesome home-cooked breakfast on the homestead veranda, picnic lunches in the shade of a boab tree and shared dinners under the stars around a campfire.
A wildlife lovers delight, Bullo River Station's waterholes and billabongs attract an impressive collection of resident and migratory birds, and the property which has a unique partnership with the Australian Wildlife Conservancy, is home to a diverse range of rare and endangered Australian wildlife.
All meals, most beverages and a selection of signature activities, including a short scenic helicopter flight, are included with a stay at Bullo River Station. This Australian outback luxury lodge is closed between November and February annually.
A love letter to the amazing team @southerncrossings (and a special thanks to Samantha Thomas who answered all my questions and adapted my itinerary as needed). You made my dream come true. From the tour guides to the drivers, from the accommodations to the flights, everything was perfect. You're the best in your business and I will talk about this adventure for the rest of my life.
Where to begin?! We cannot thank you enough for making our dream honeymoon come true. From start to finish it was absolutely perfect and so much more than we ever could have imagined. We still cannot believe how much you were able to fit in and each stop along our itinerary just got better and better. Working with Southern Crossings was - without a doubt - the best decision we made in planning this trip and we know, for sure, that it would not have been nearly the same without your brilliant expertise. … We are so grateful for your support around this trip and hope to work with you all again in the future as soon as we can make it back.
Just completed three weeks of travel in Australia and New Zealand with our 5 kids. Southern Crossing took great care of us by selecting properties that were worth visiting, finding local guides to help us see the sites, and recommending fine dining establishments that were superb. Well done. We would highly recommend their team.
We used Southern Crossings for our time away in the Northern Territory which has been on our wish list for years. The experience was everything we'd hoped for: from the hotels they recommended to the types and size of the tours they organised. It was perfect for our family. We loved the use of their app for up-to-date information on what was coming up and the places we had visited. I would highly recommend them and will definitely be using them again.
"Every day was more exciting than the last. Great advice and great execution all around by Southern Crossings. Highly recommend!"
If I could give Southern Crossings 10 stars I would! .. I found Southern Crossings through Town and Country Magazine and my hopes for a 5-star vacation became reality .. once we had our Zoom with Paul, we knew that we would be in good hands. .. Paul tailored EVERY SINGLE detail of what we were looking for in our trip to our needs. The itinerary was amazing, .. I expressed interest after hearing about a restaurant while in Sydney, and he helped push to get us off the extremely long waitlist. He made sure we had the BEST rooms at each hotel we stayed at .. they seriously are the best of the best.
I have worked with a lot of travel companies over the years and I'm happy to say Southern Crossings is at the top of the list. You guys were so easy to work with and so organized and on top of everything. None of those details were missed on me. My only wish is that you covered more areas in the world!!
"Southern Crossings put together the trip of a lifetime...The team was incredibly accommodating and went above and beyond to ensure we received what we asked for and more .. amazing excursions and accommodations that we will never forget across seven locations in Australia and New Zealand. We highly recommend using Southern Crossings!"
"Thank you, once again, for making our trip so seamless. We loved every place we stayed and all of the adventures you planned for us! We hope to visit again and will be sure to connect with you for that trip."